"THE best investment I have made throughout my entire pregnancy."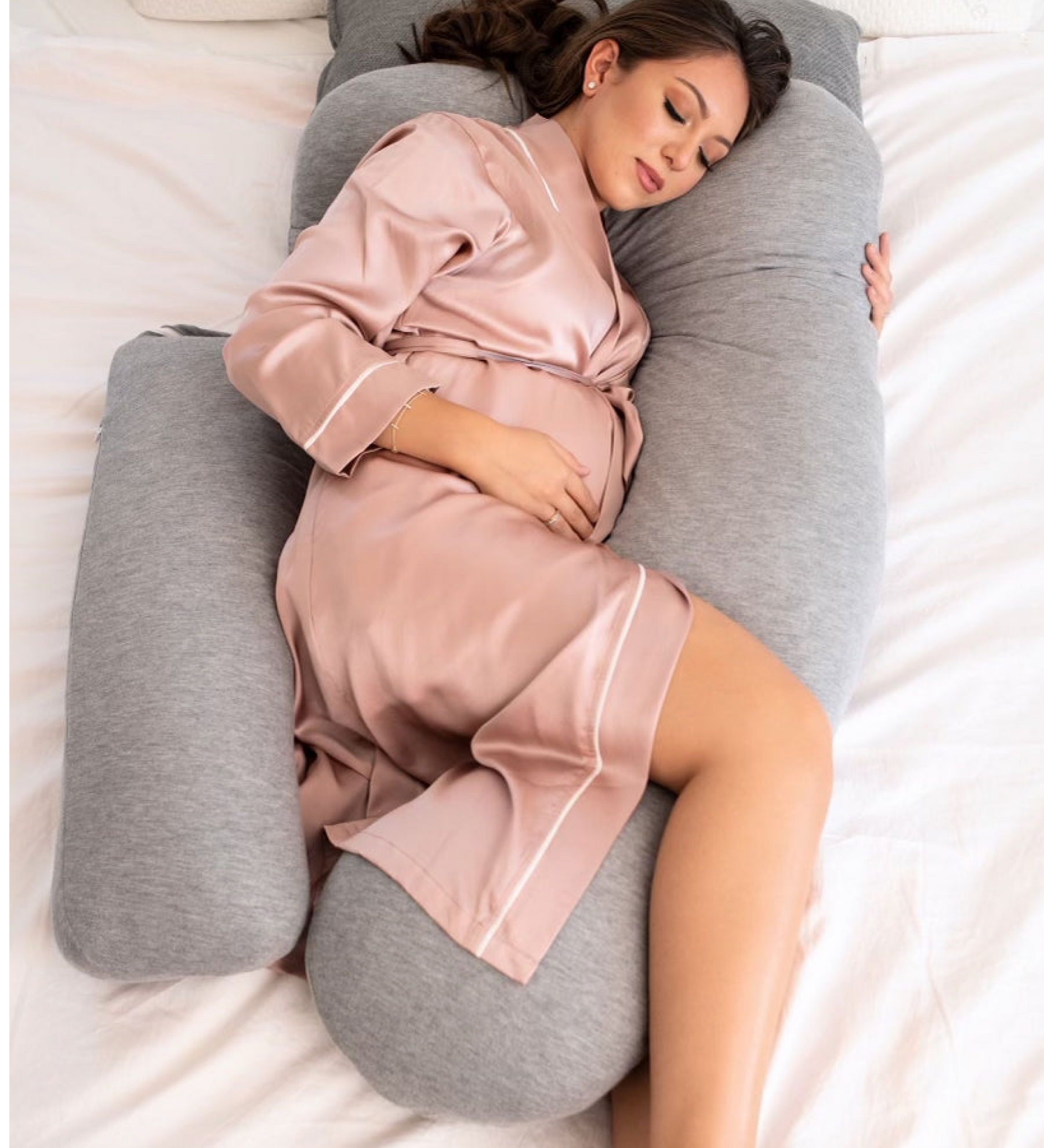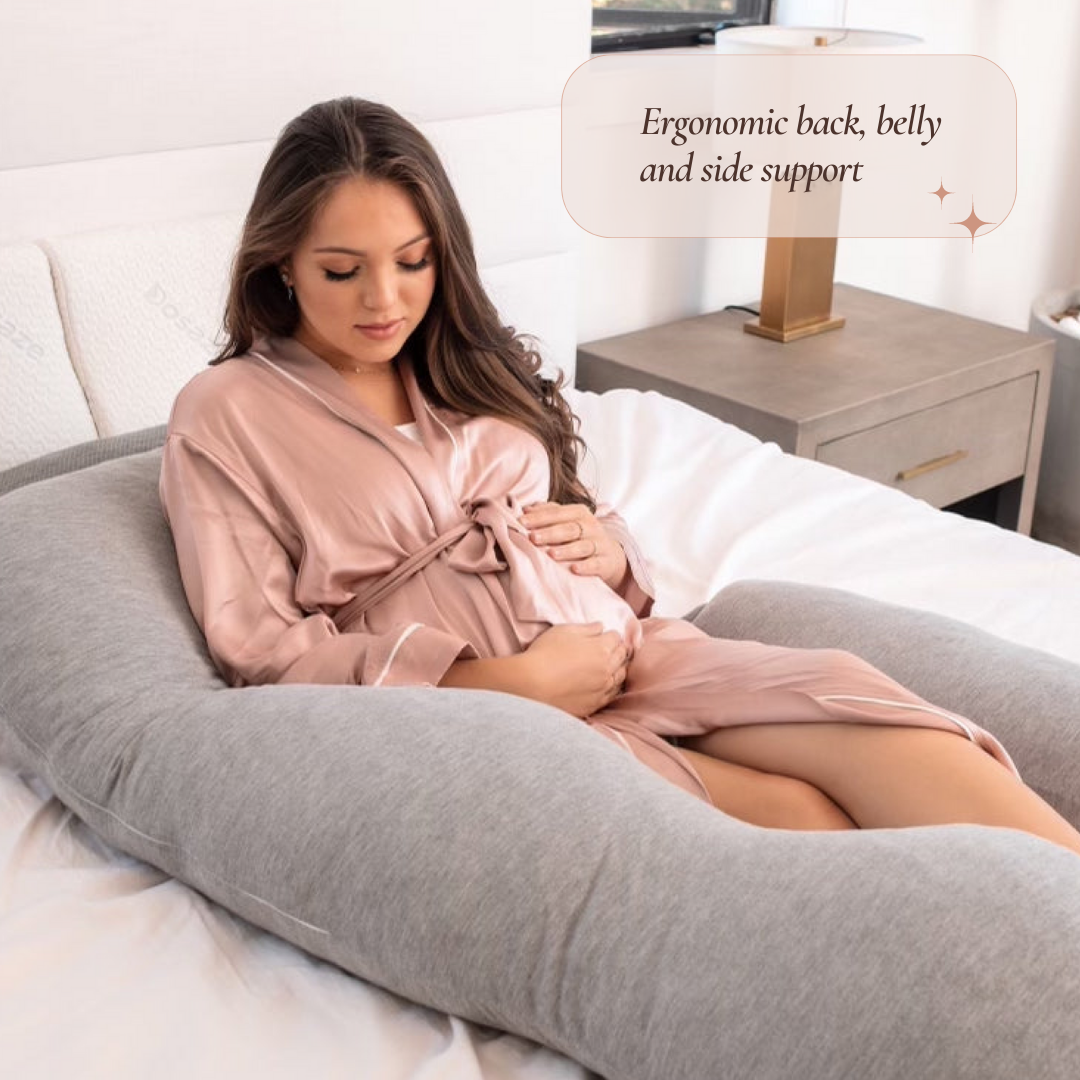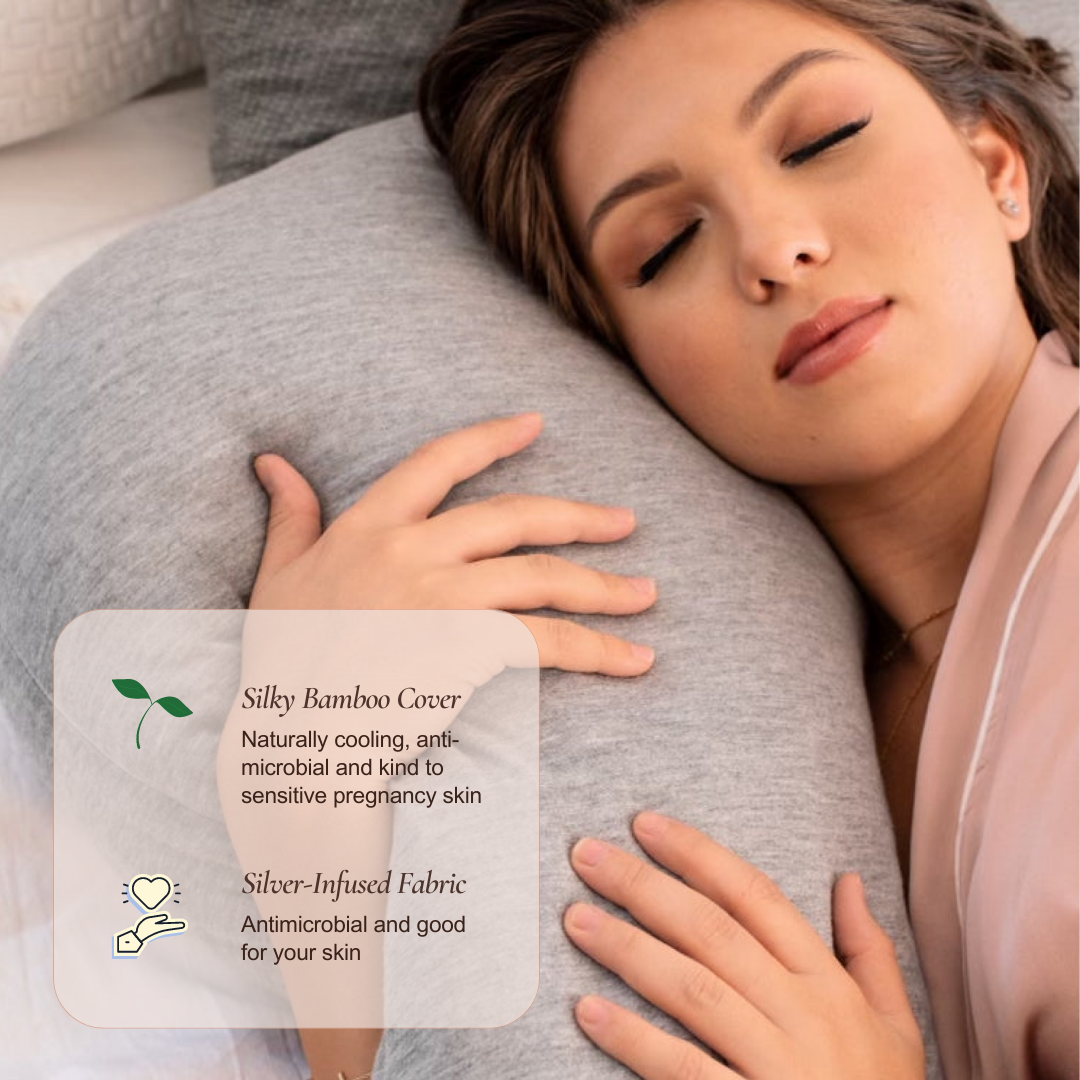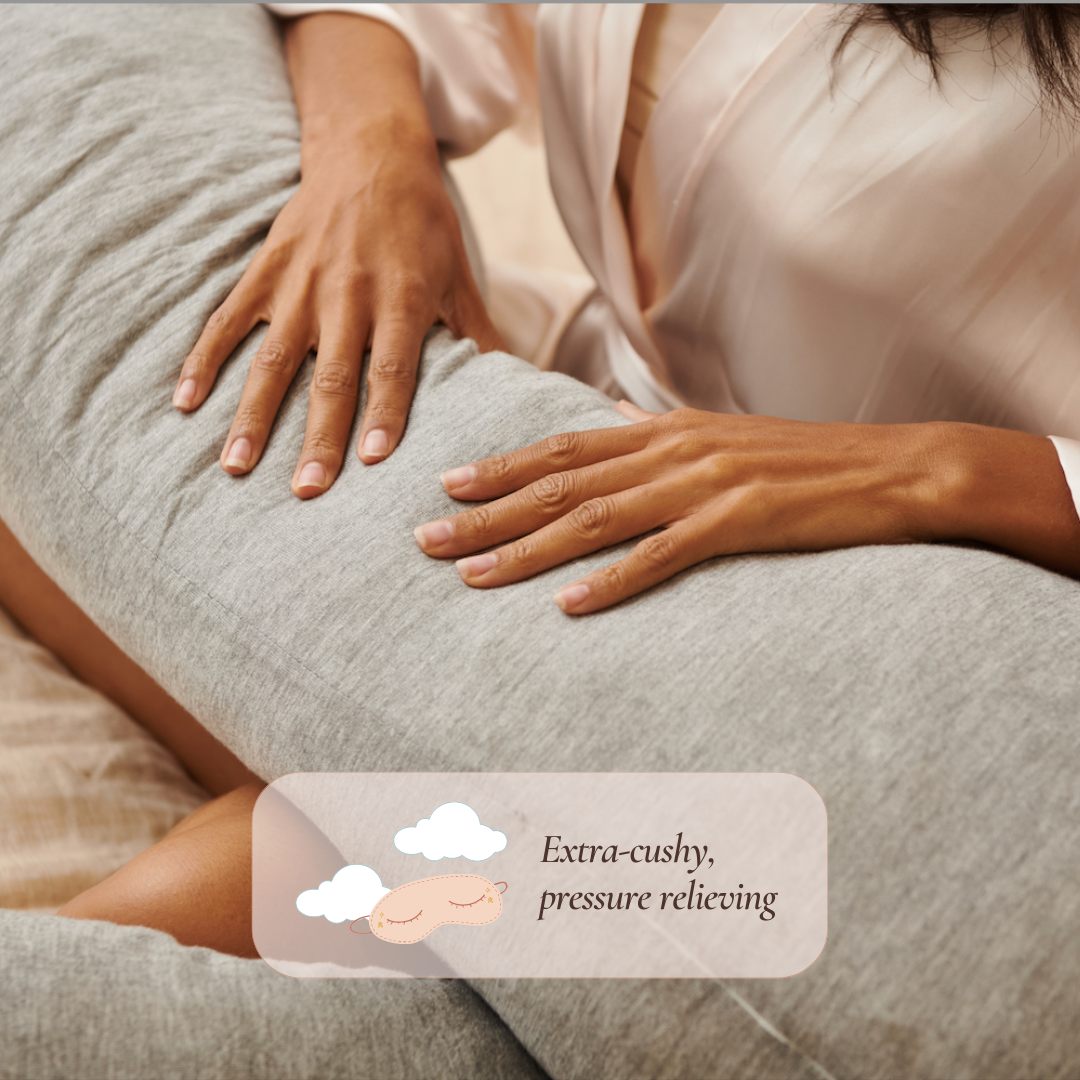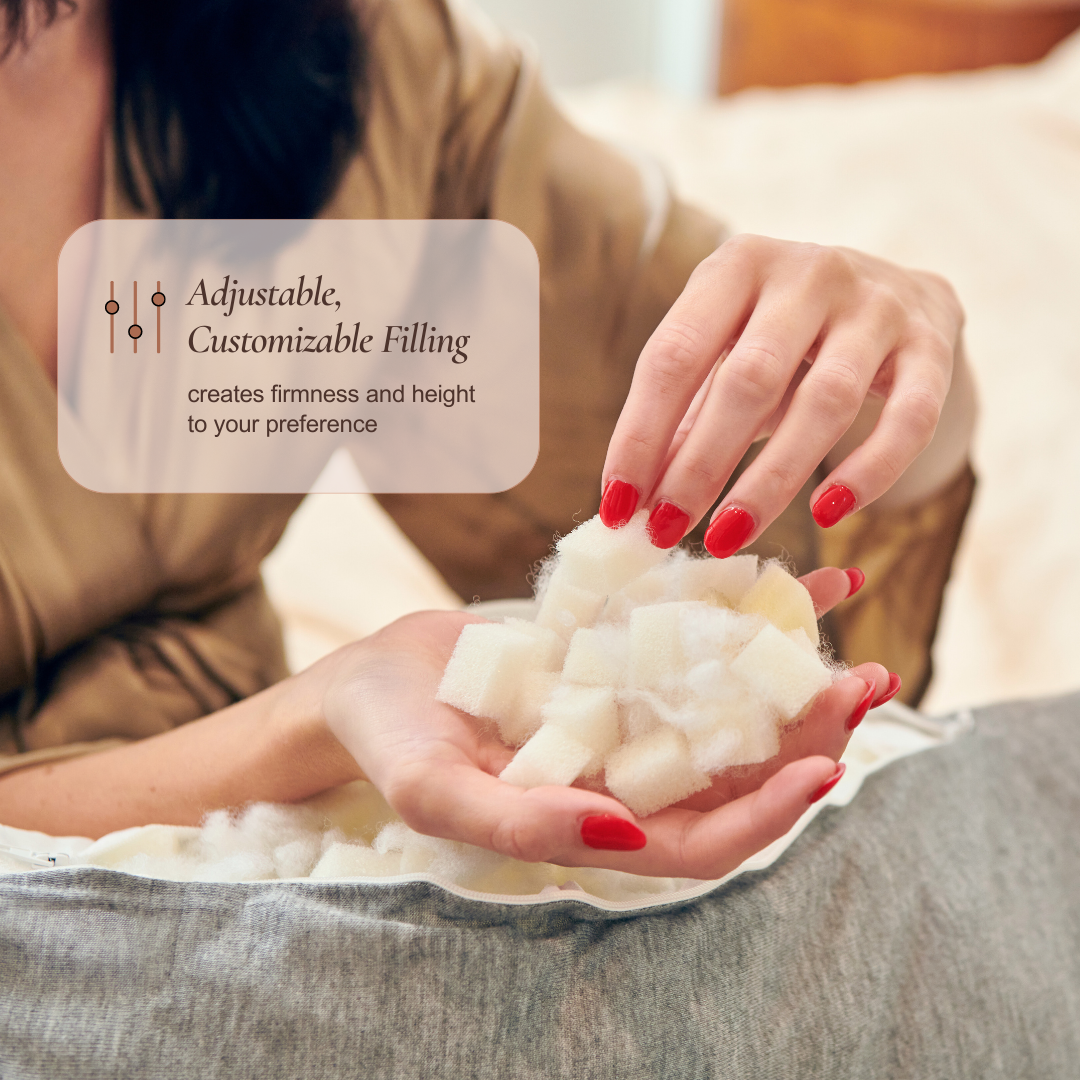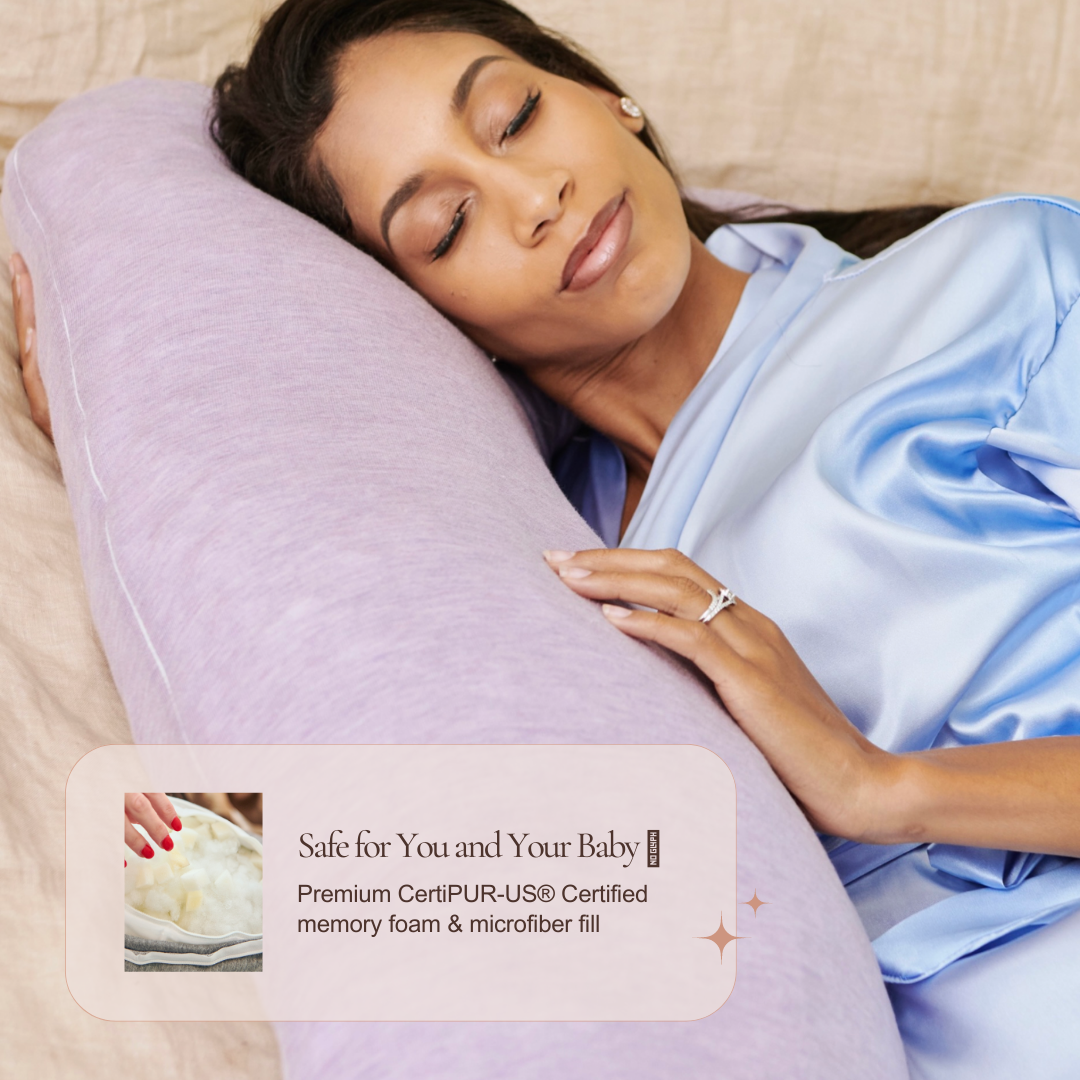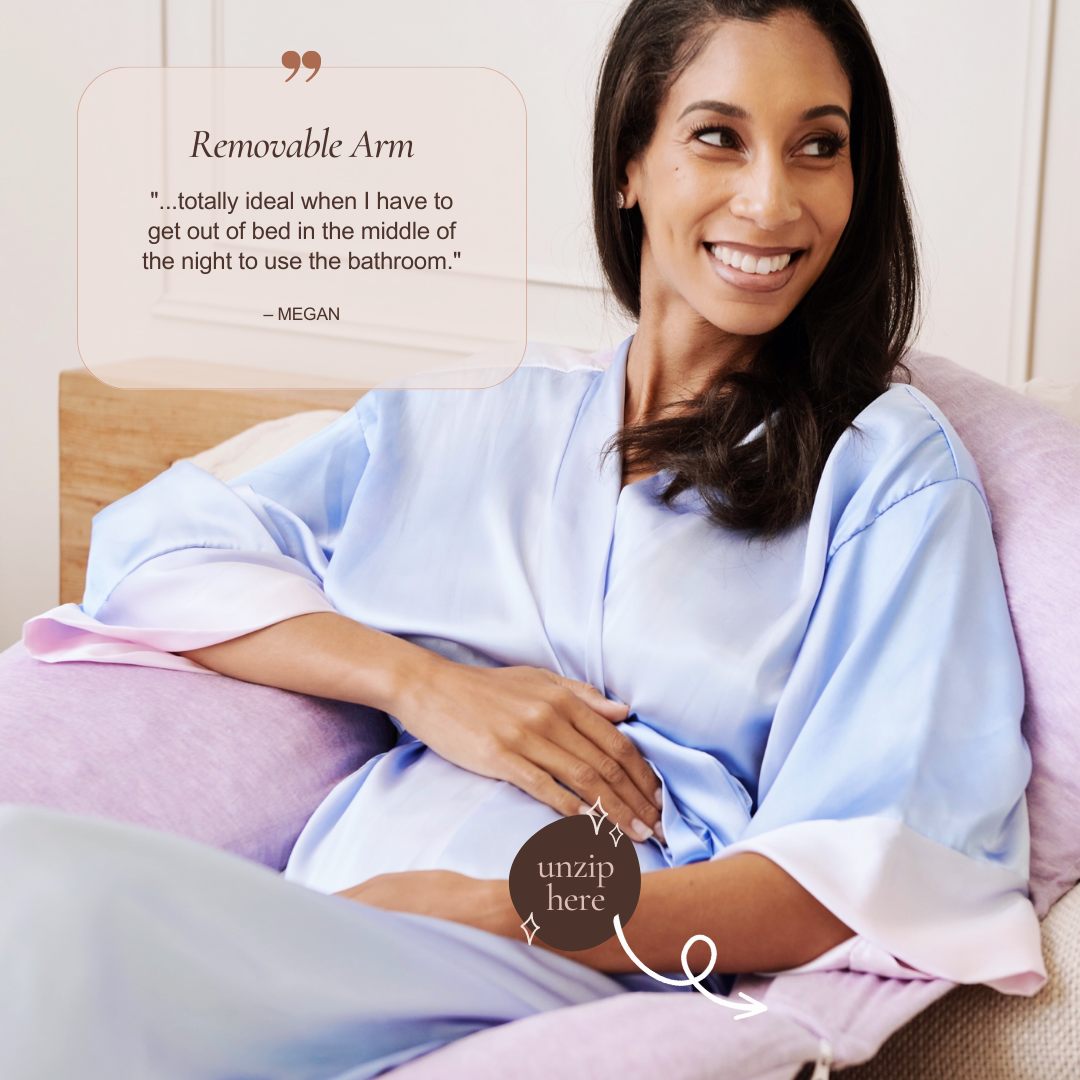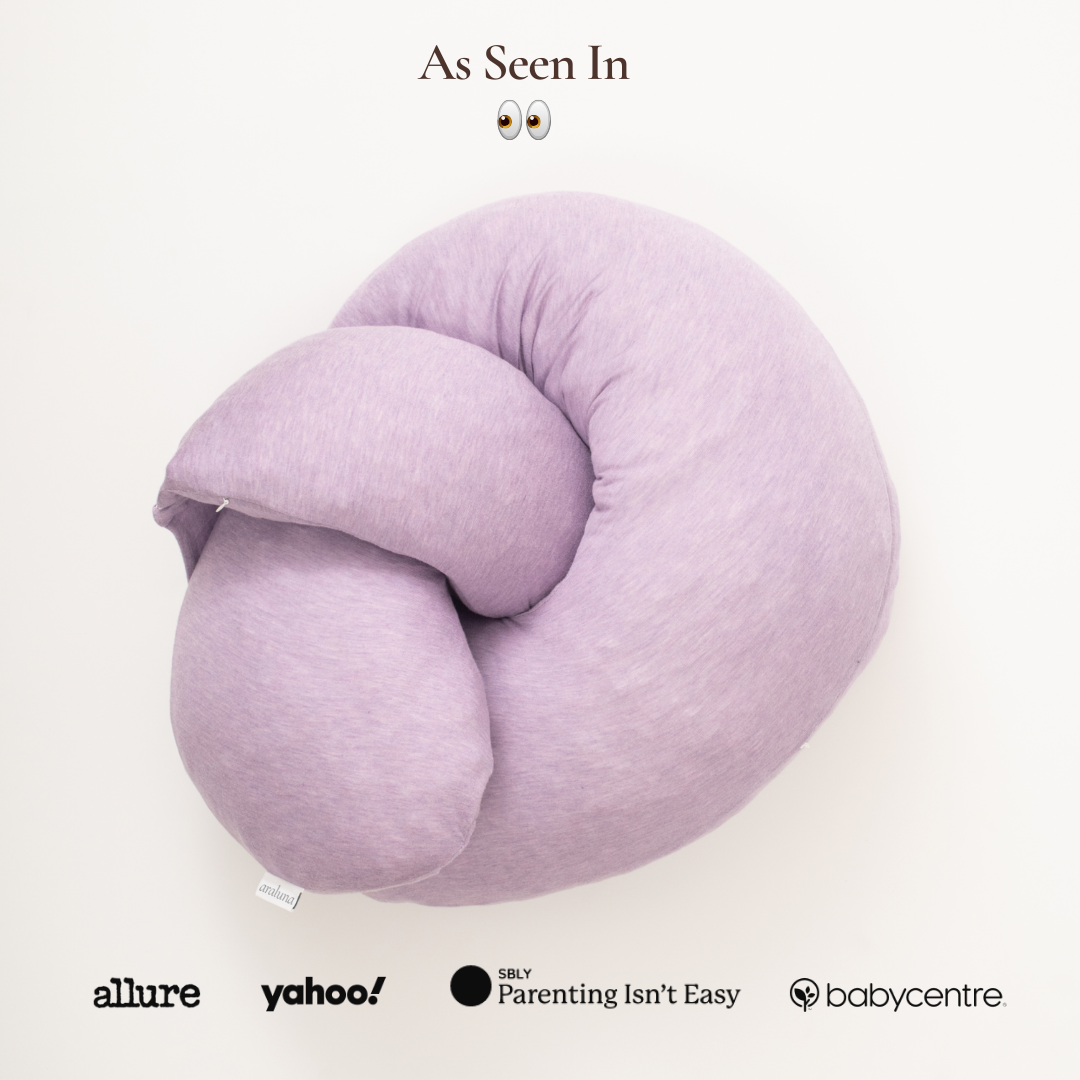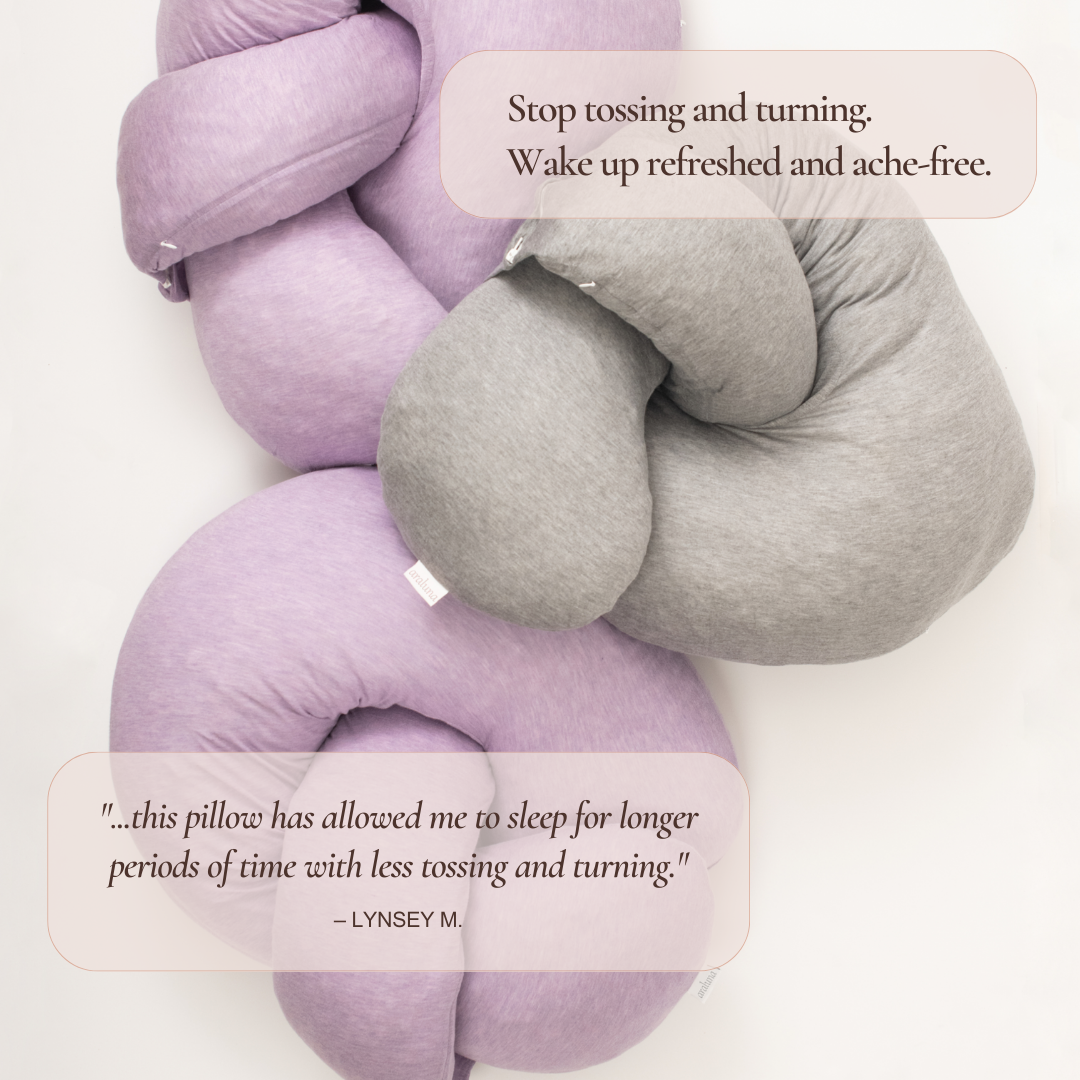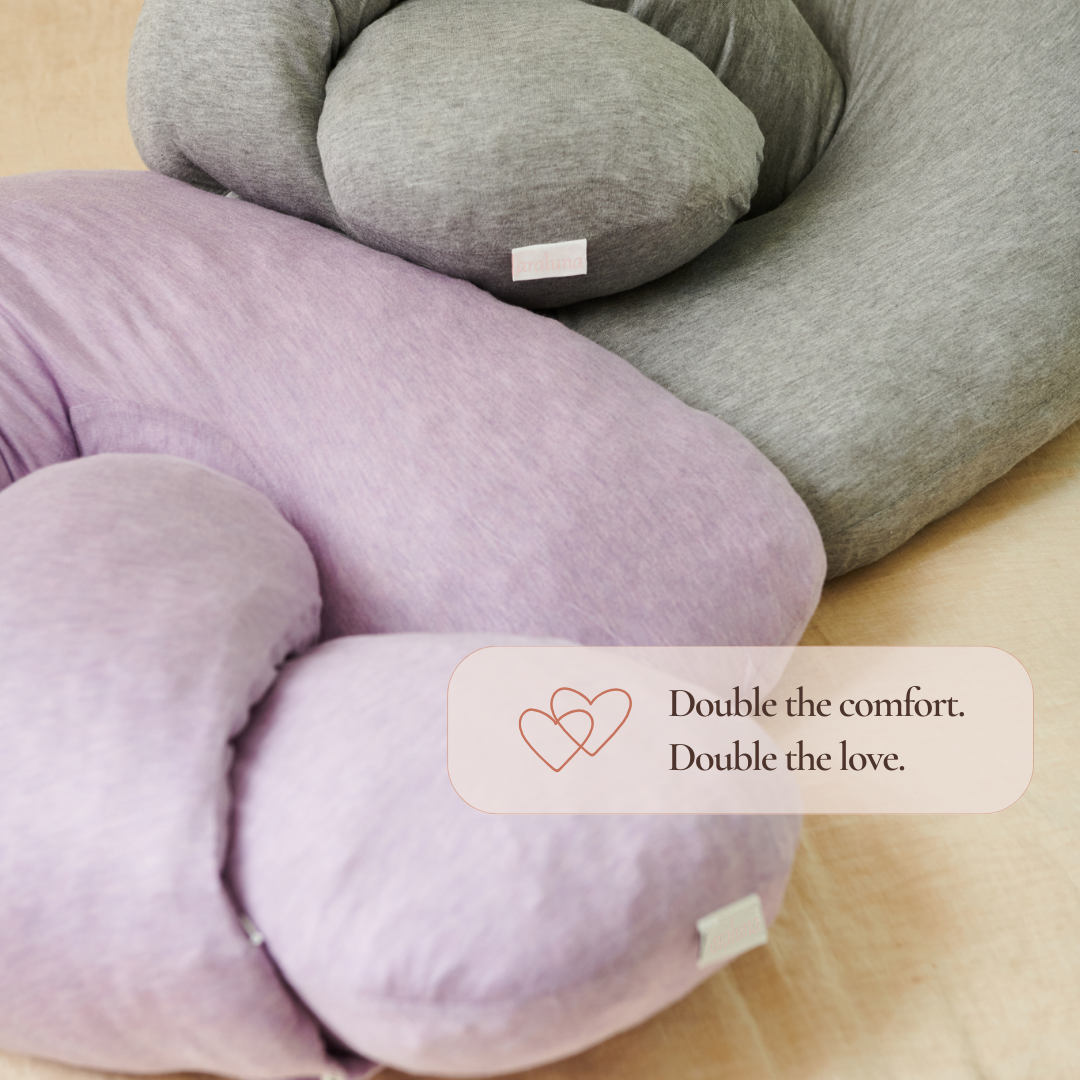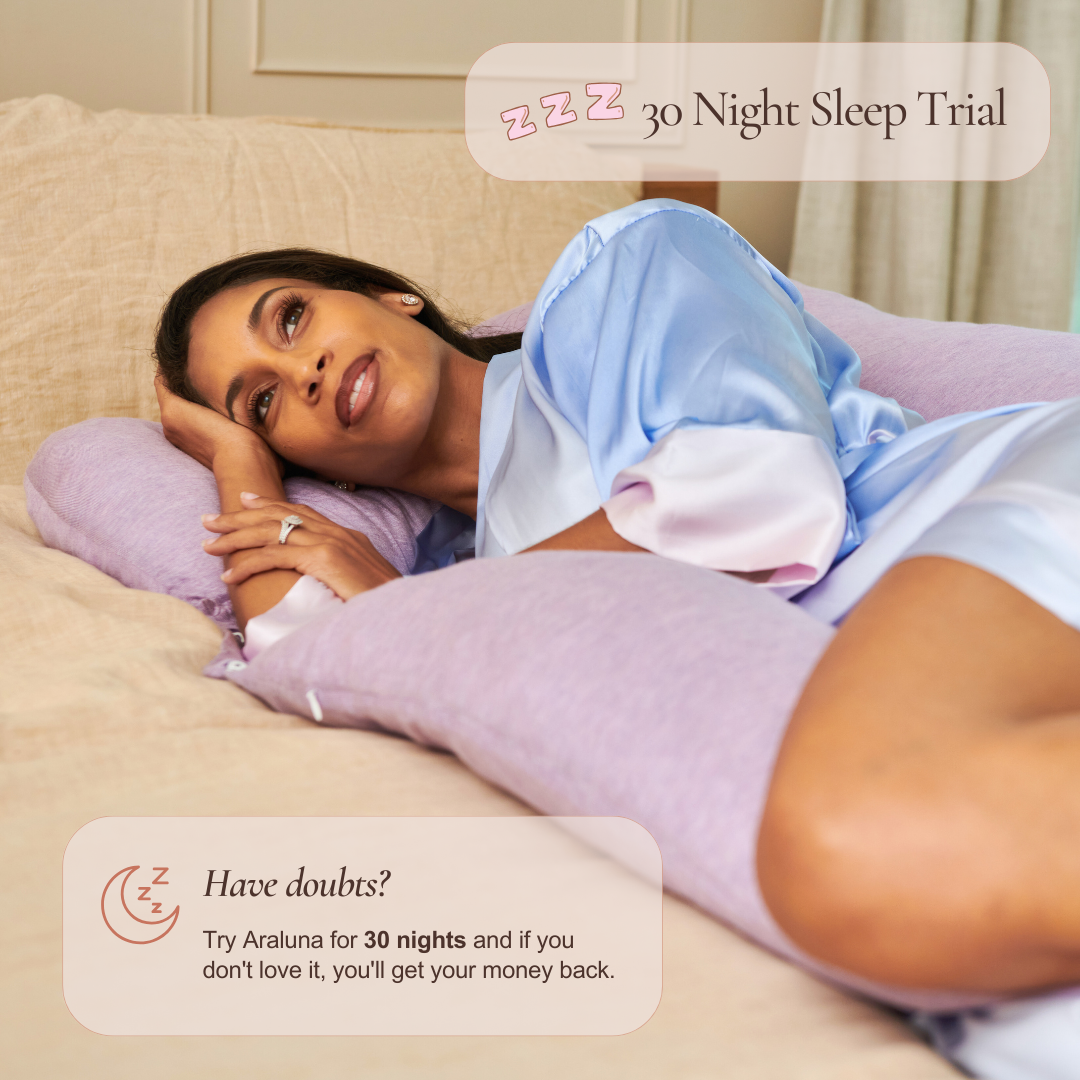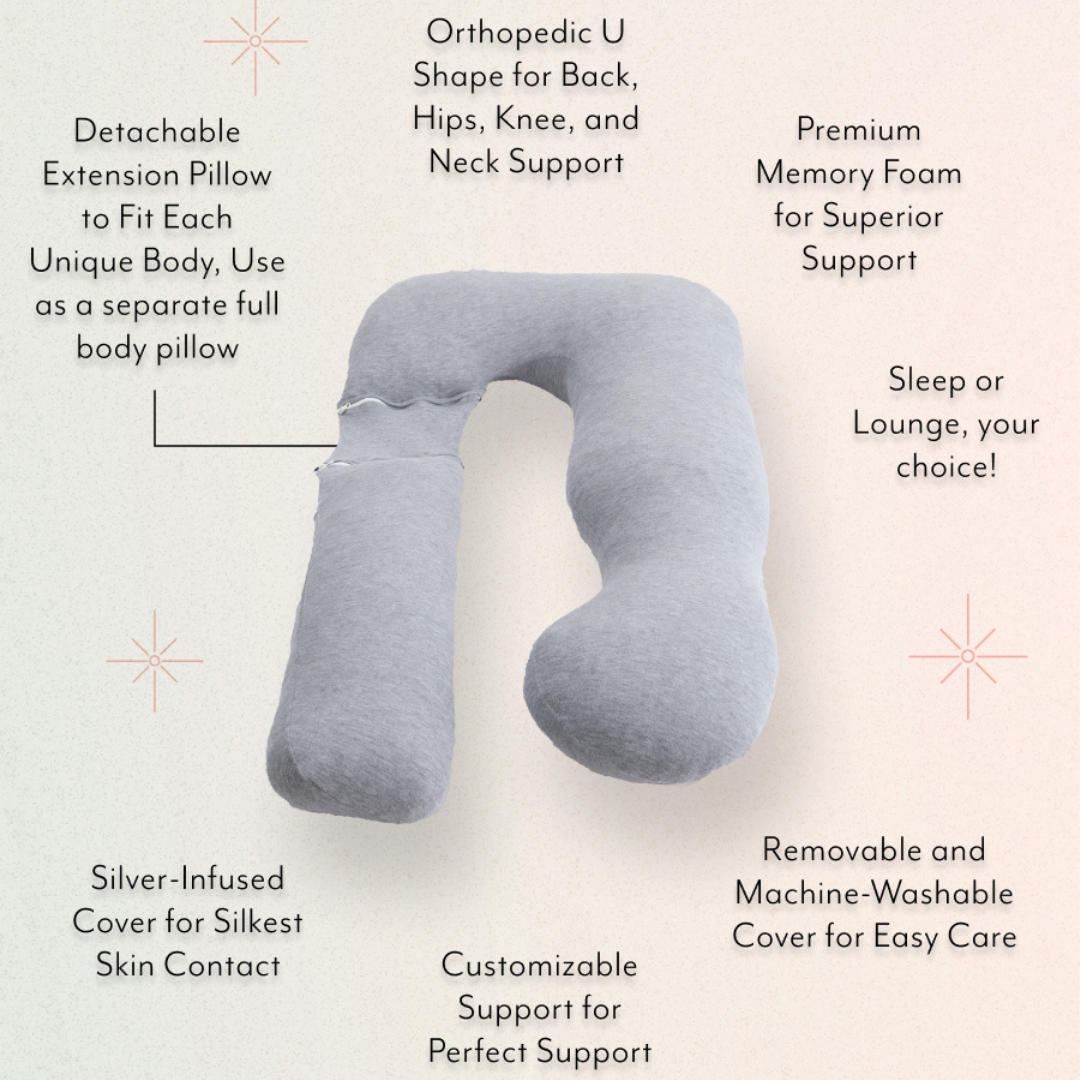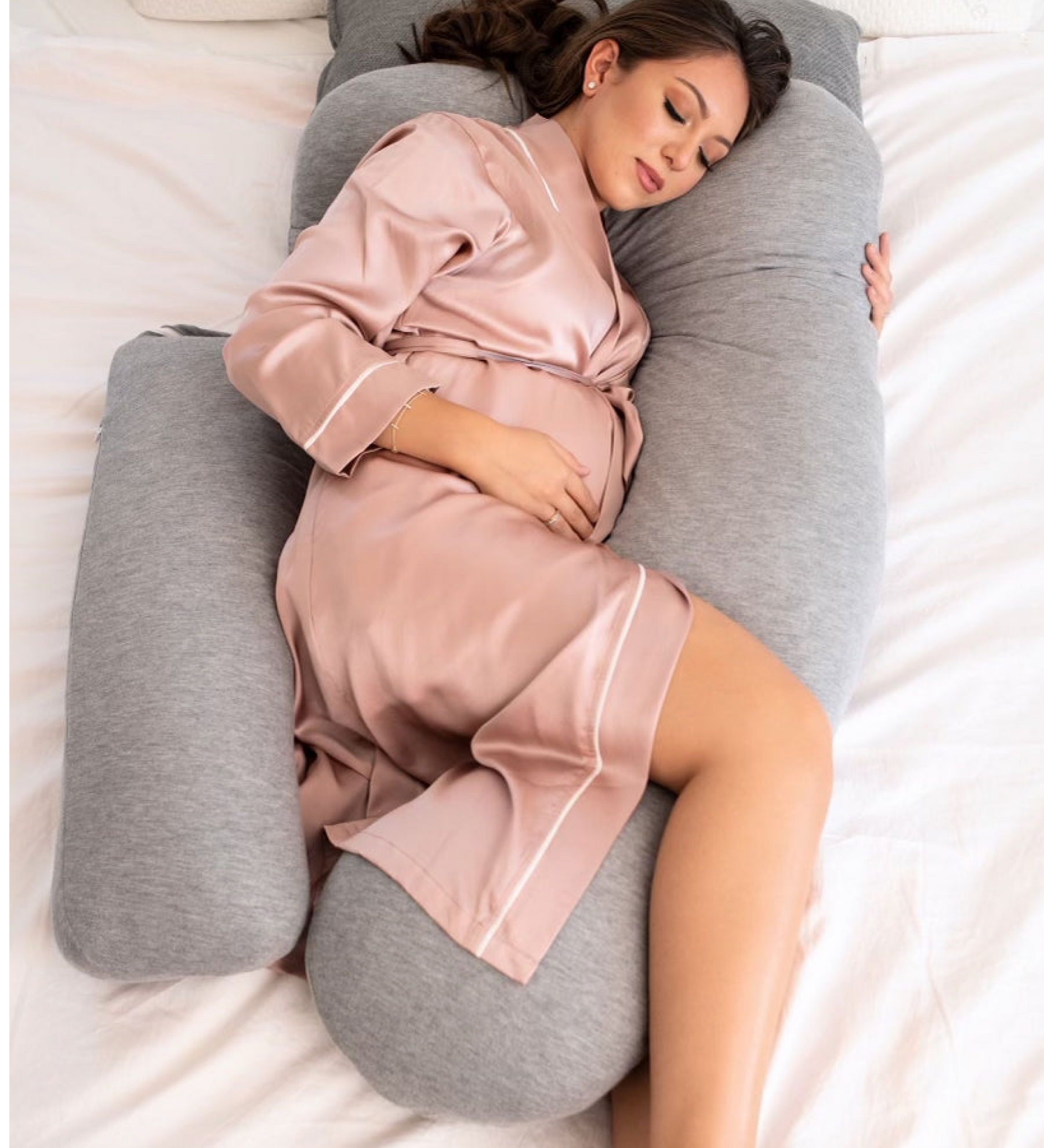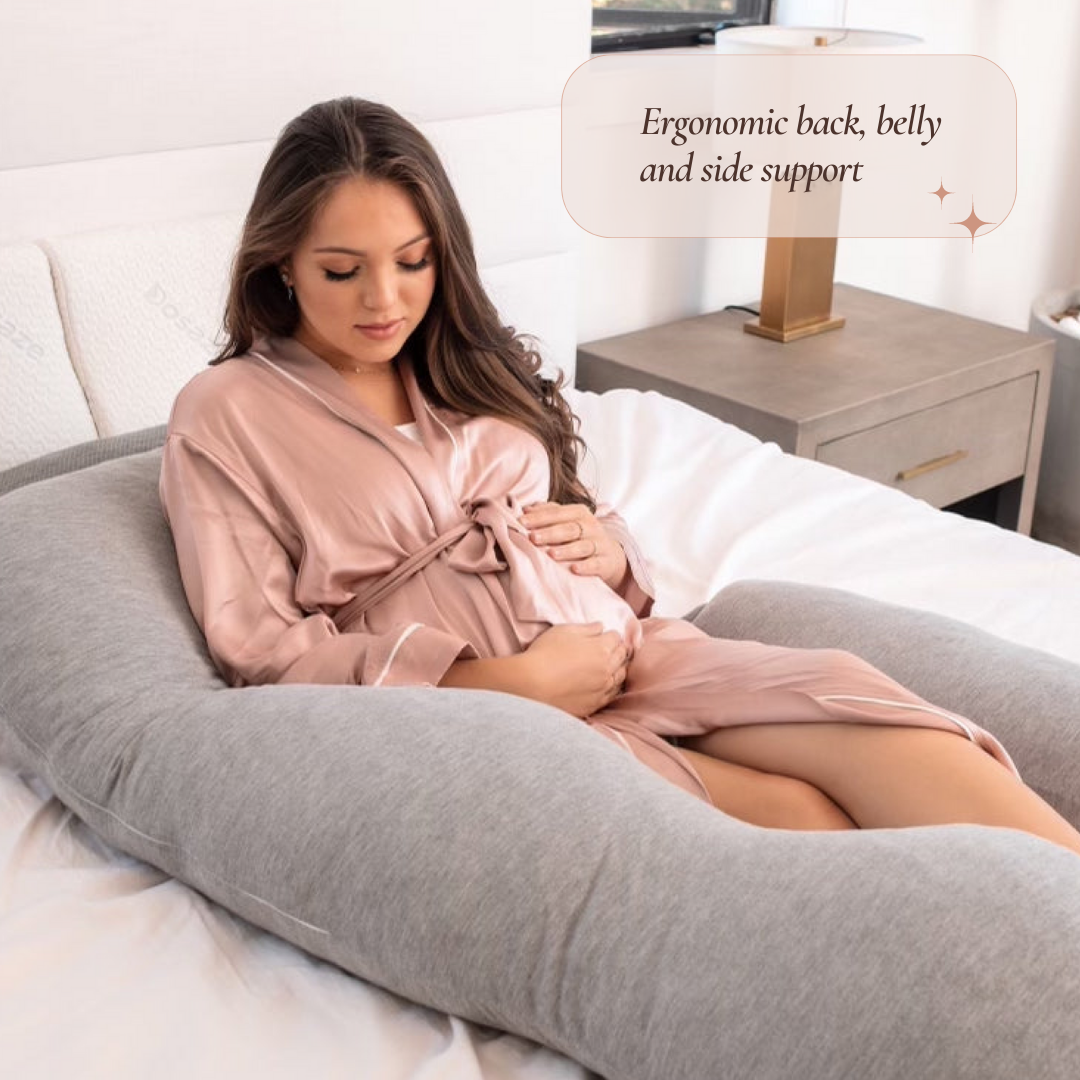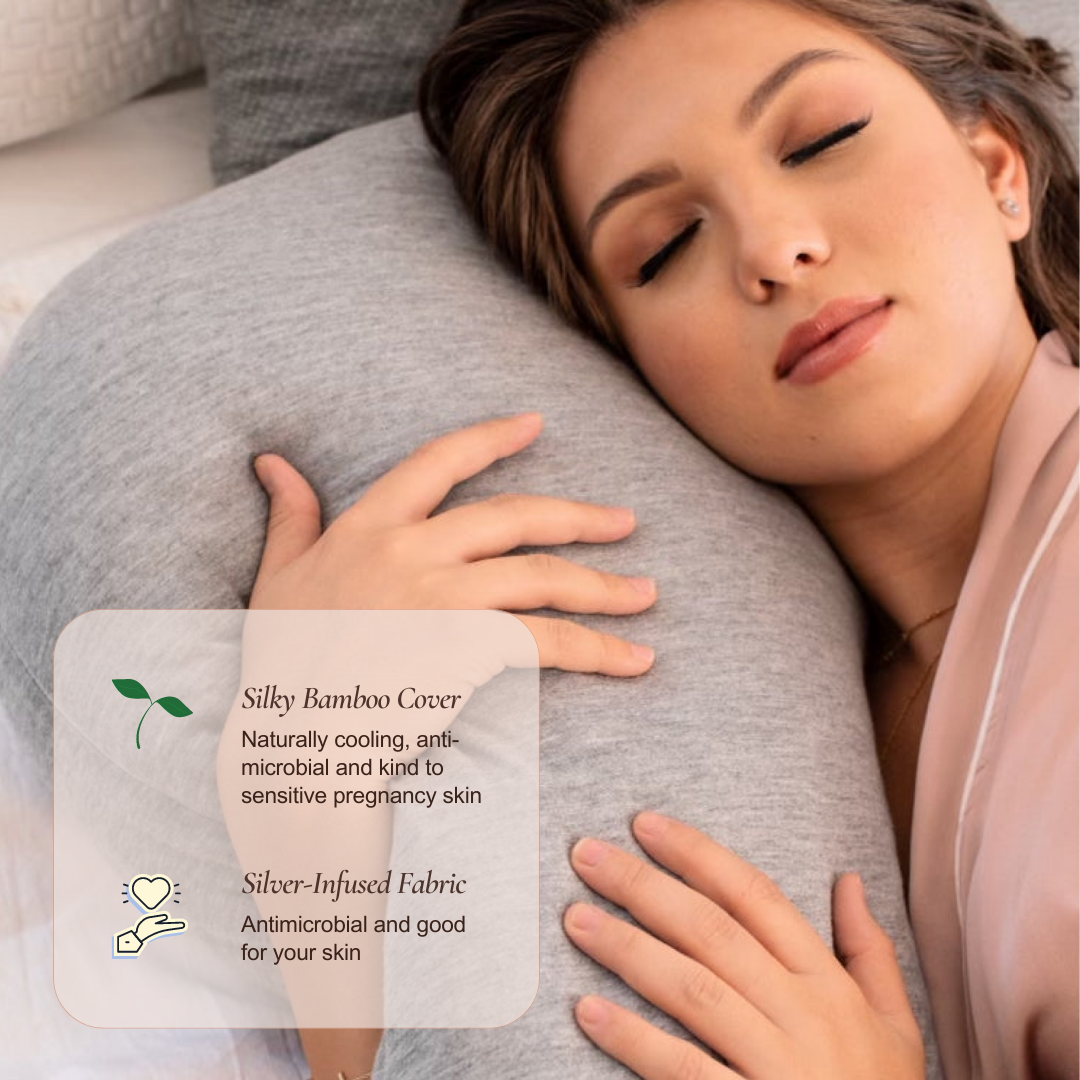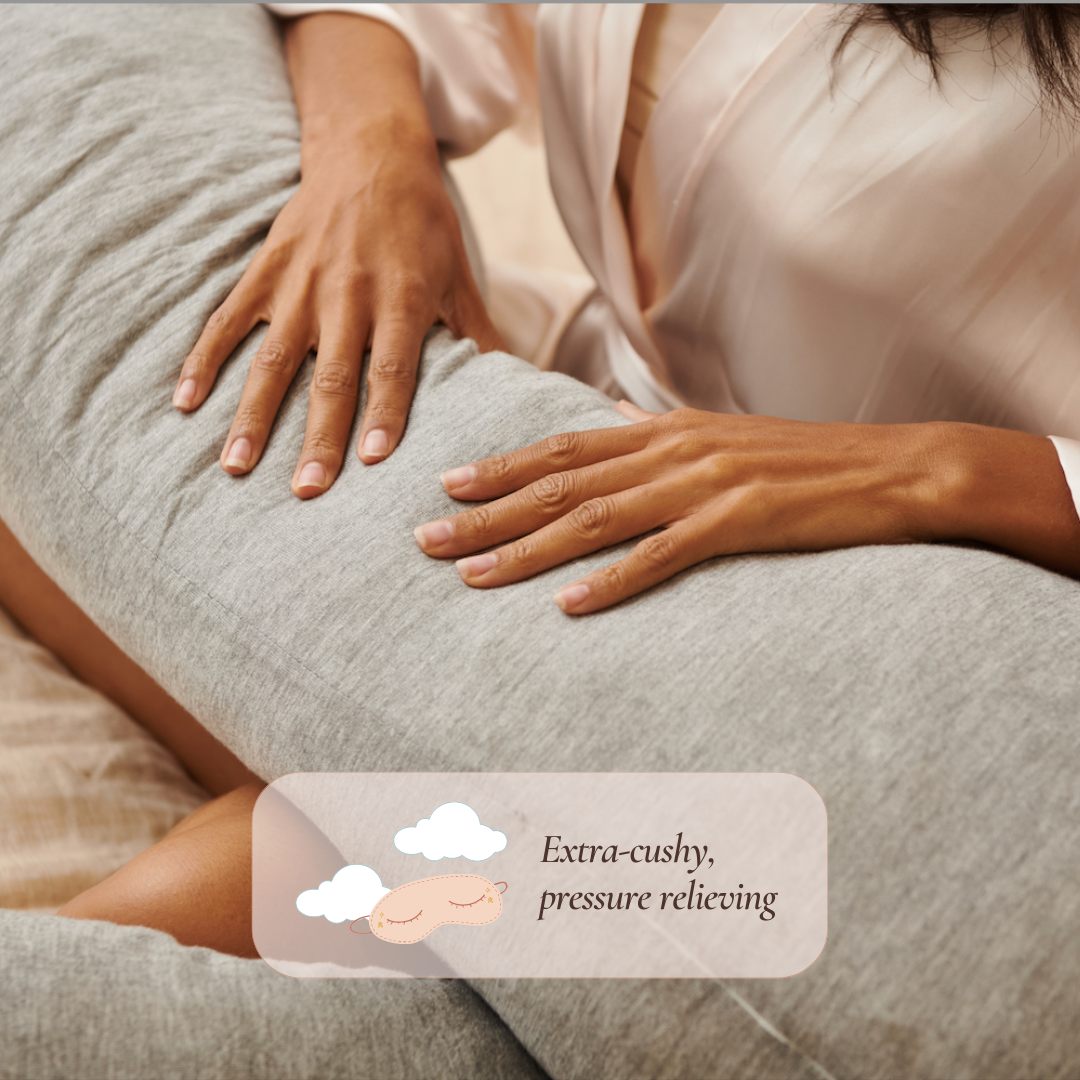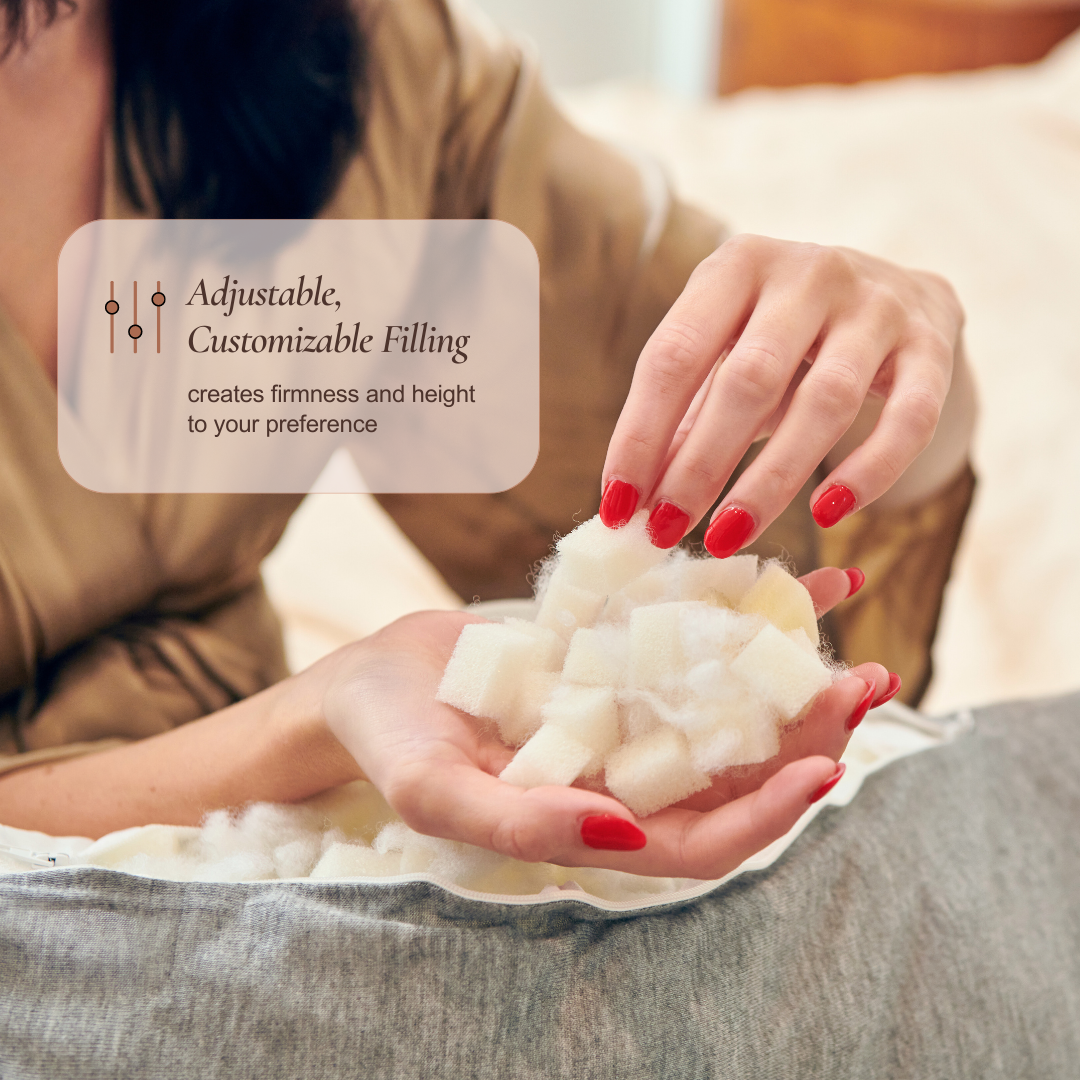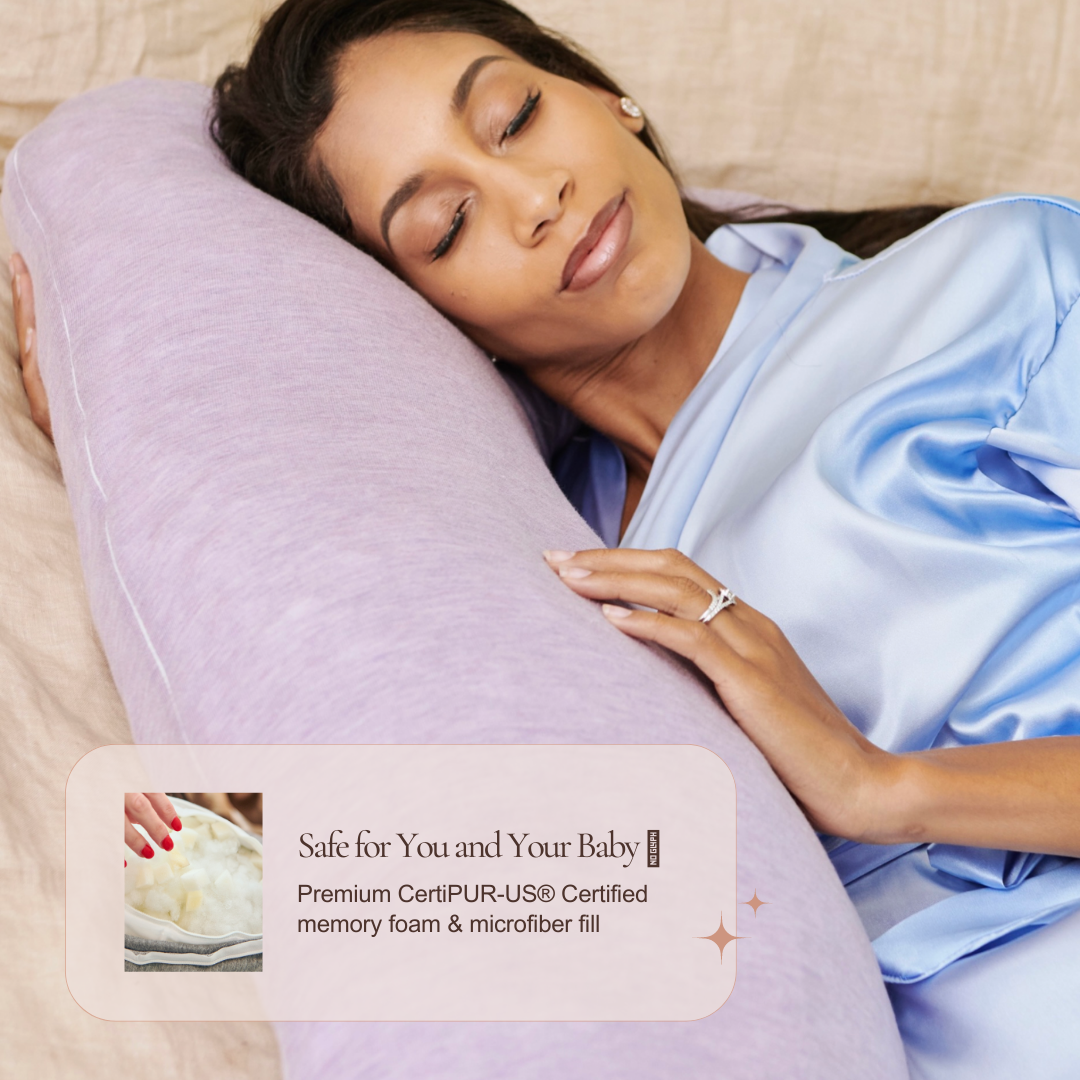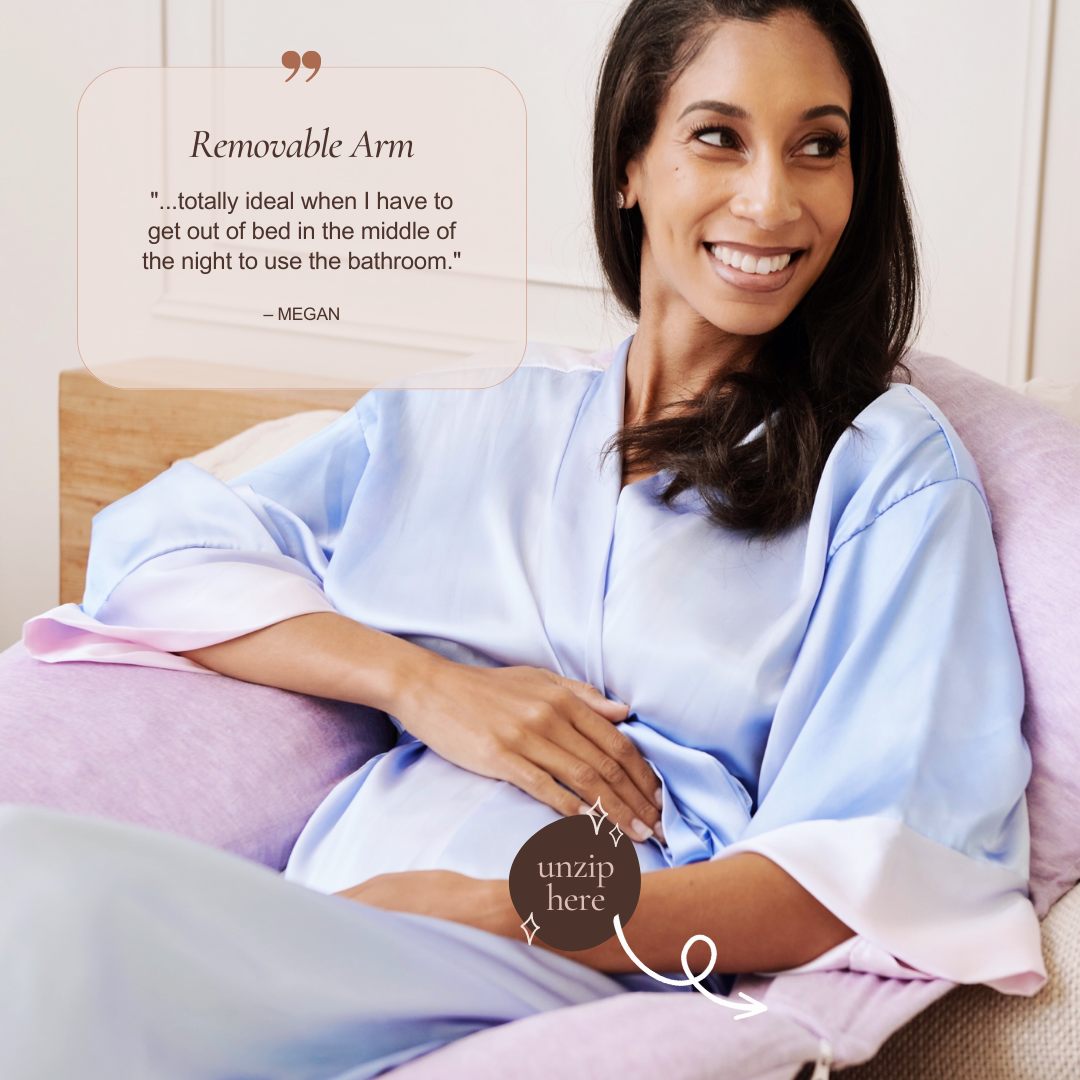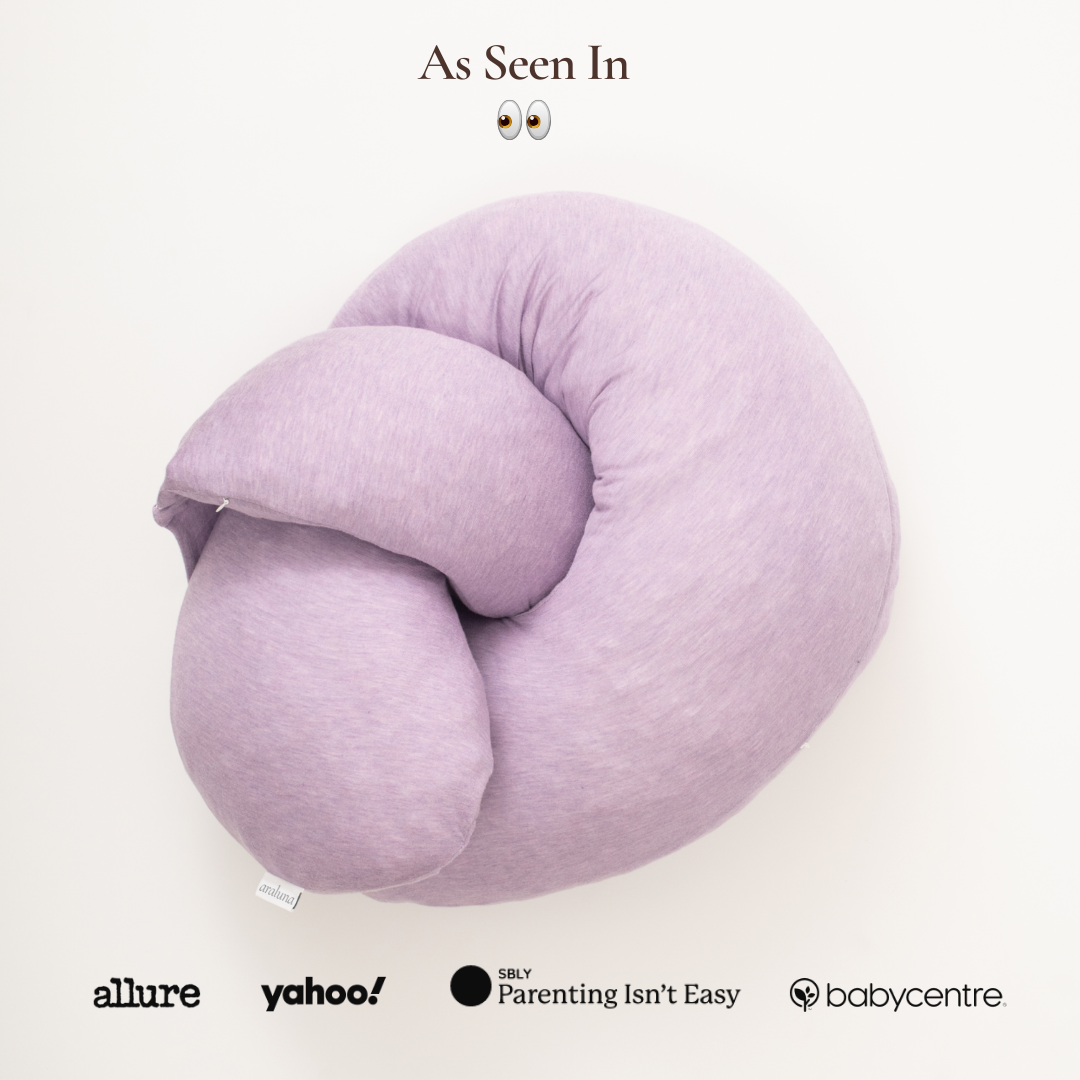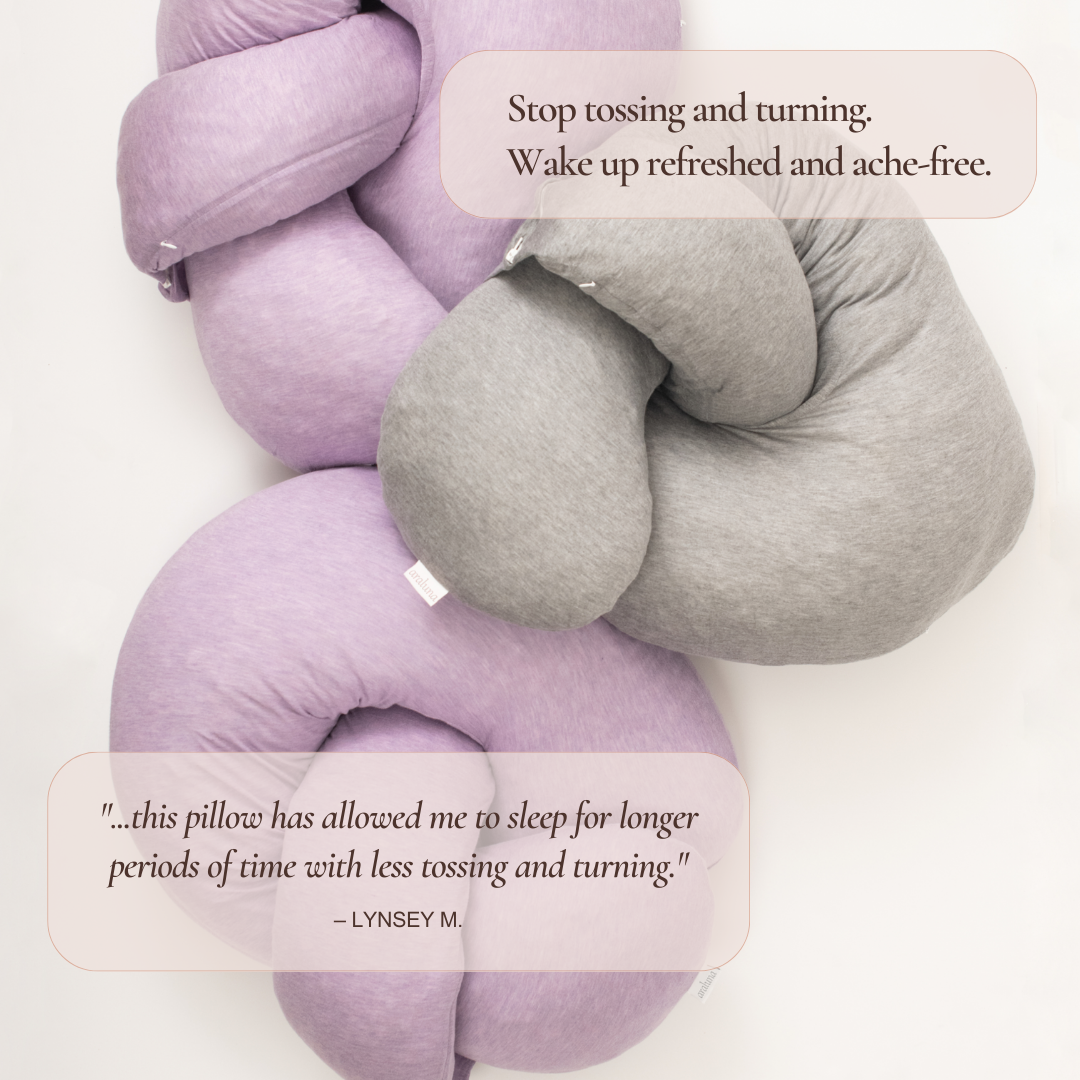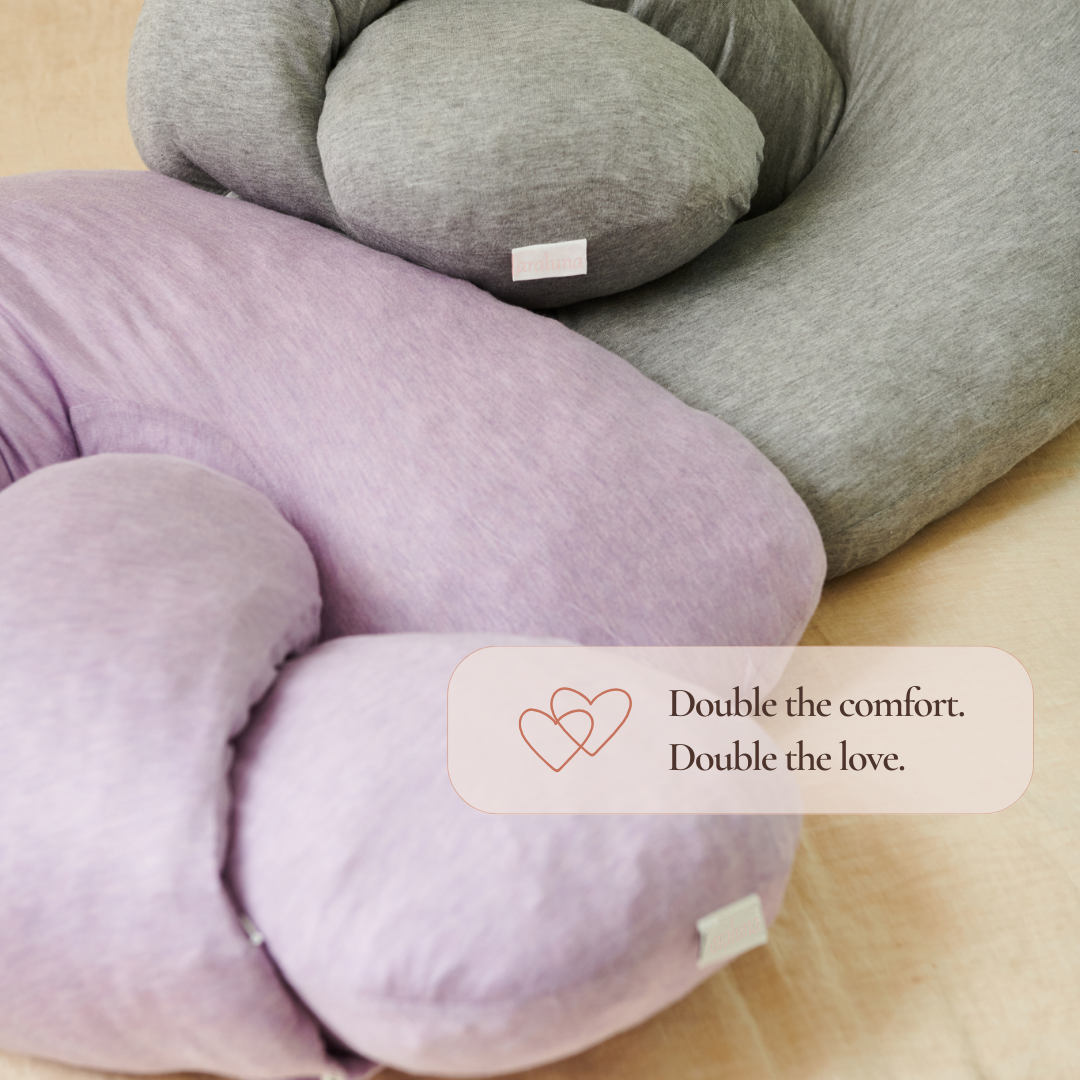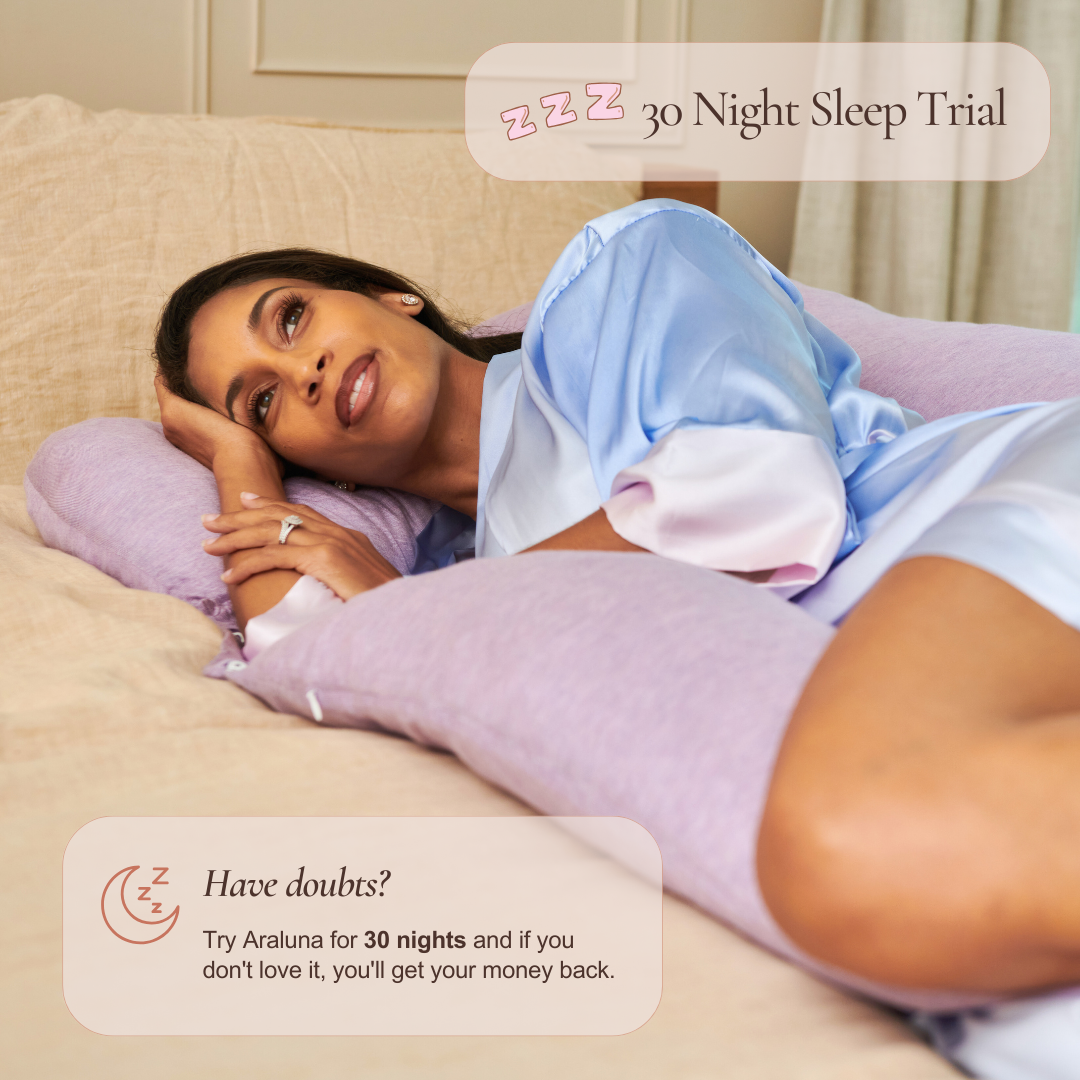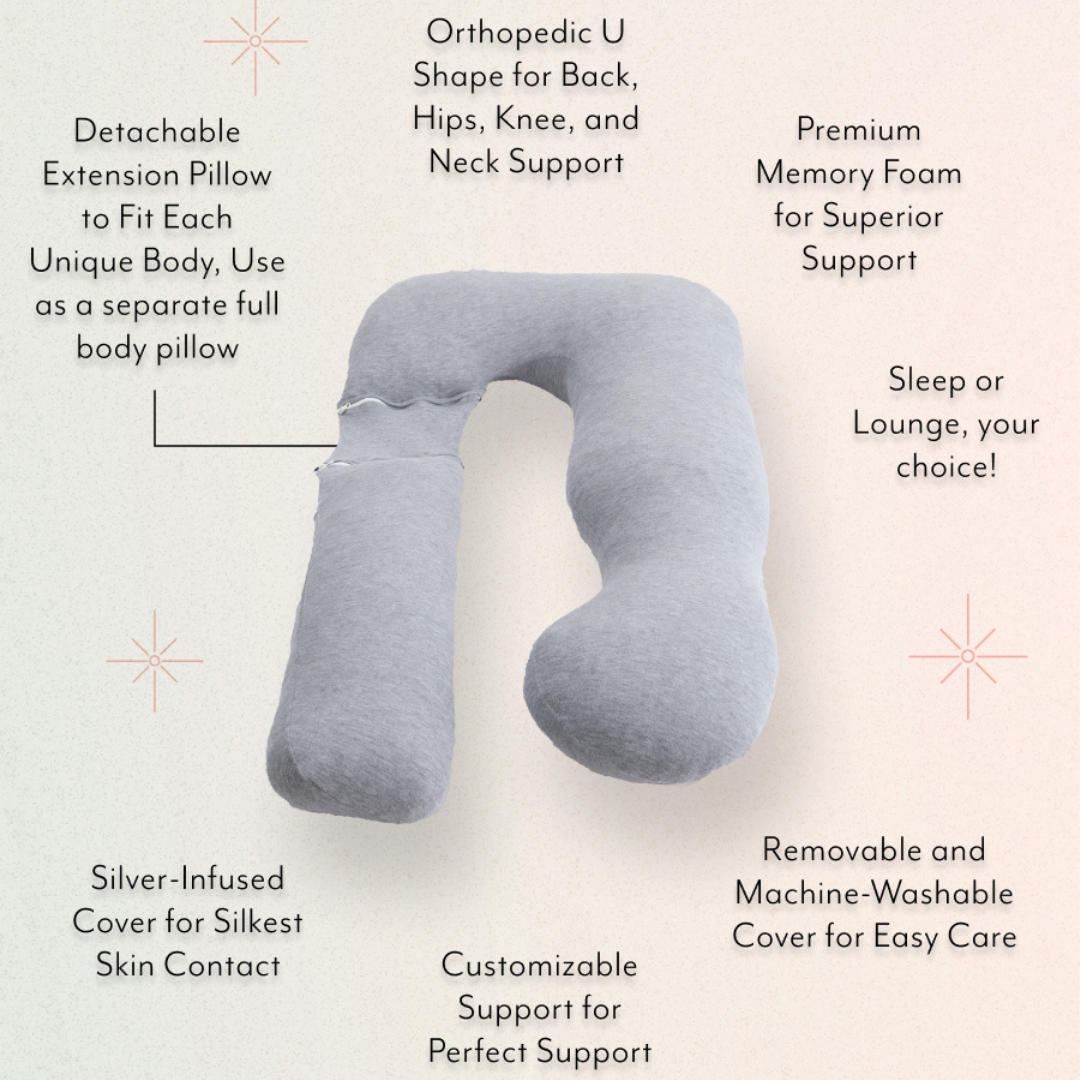 Katherine W.
Verified User
Gabriella M.
Verified User
Premium CertiPUR-US® Certified memory foam & microfiber fill
Adjustable Filling creates firmness and height to your preference
Silky bamboo cover, naturally cooling, anti-microbial and kind to sensitive pregnancy skin.
SILVADUR(TM) silver-infused fabric is antimicrobial and good for skin.
Removable arm is great for knee support, to support whatever position you like, or even as a separate, travel-friendly body pillow.
Remove cover to wash. Wash and dry on delicate.
Try Araluna for 30 nights and if you don't love it, you'll get your money back.
The memory foam in the Araluna™ pillow is CertiPUR-US® certified.

CertiPUR-US certified foams are:

✓ Made without ozone depleters
✓ Made without PBDEs, TDCPP or TCEP ("Tris") flame retardants
✓ Made without mercury, lead, and other heavy metals
✓ Made without formaldehyde
✓ Made without phthalates regulated by the Consumer Product Safety Commission
✓ Low VOC (Volatile Organic Compound) emissions for indoor air quality (less than 0.5 parts per million)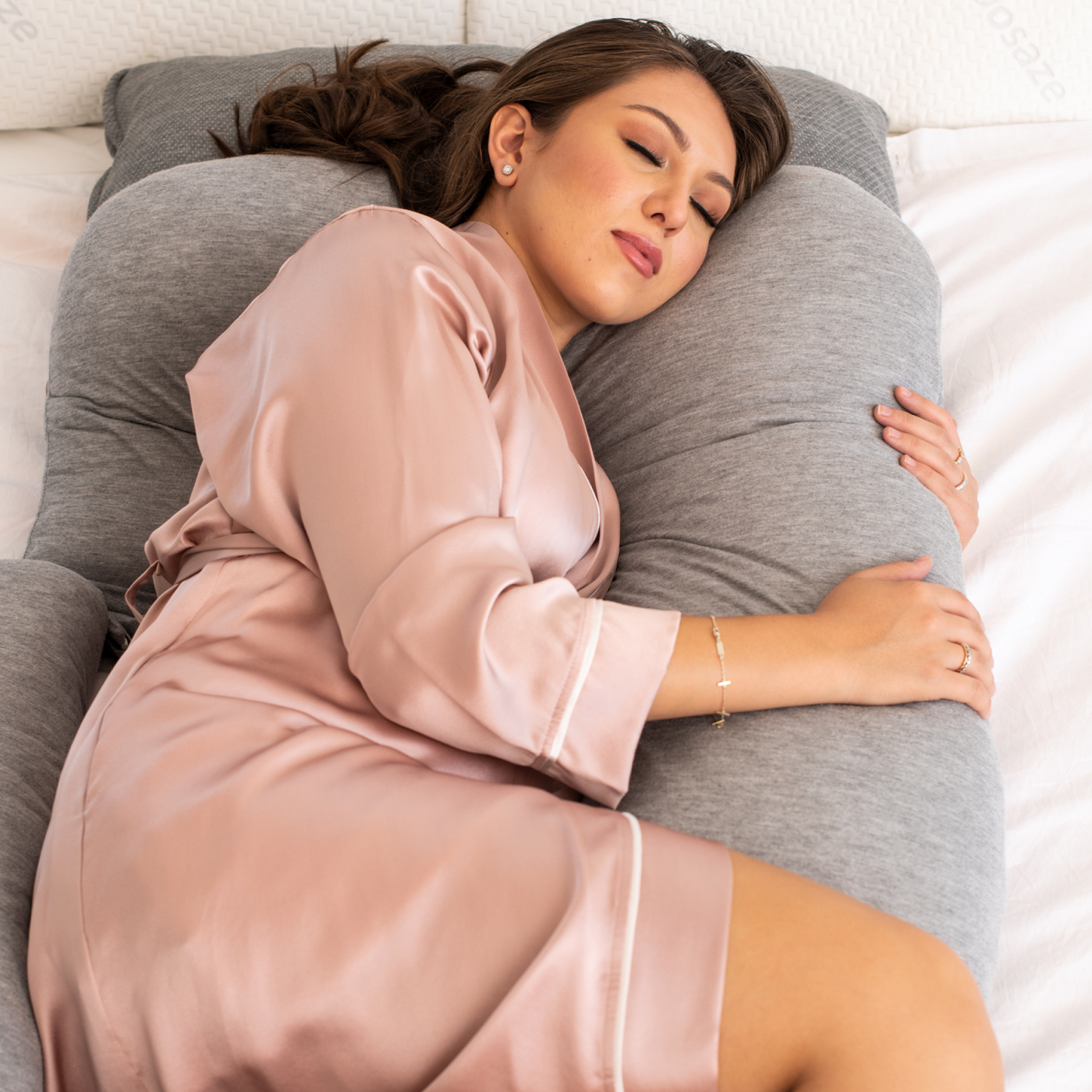 Get the relief you deserve
You're growing another life – that's no easy feat. Stop tossing and turning when you could be waking up refreshed and ache-free. Araluna's luxuriously plush memory foam fill and silky bamboo cover feel welcoming and cool on your sensitive pregnancy skin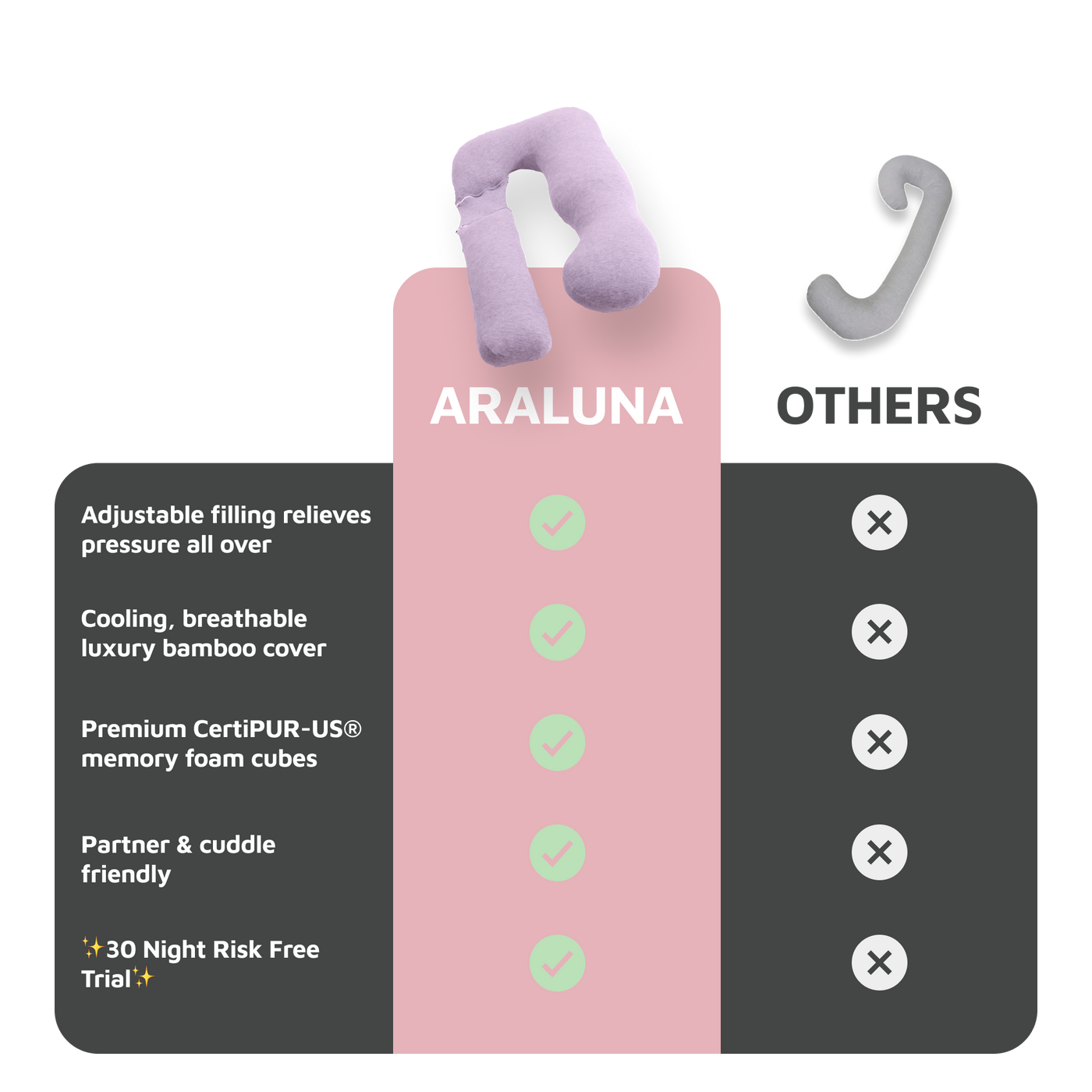 Made with you & baby in mind
Designed with you in mind, Araluna is denser and longer than standard pregnancy pillows on the market and also features a silky soft, antimicrobial bamboo & silver infused cover for your sensitive pregnancy skin.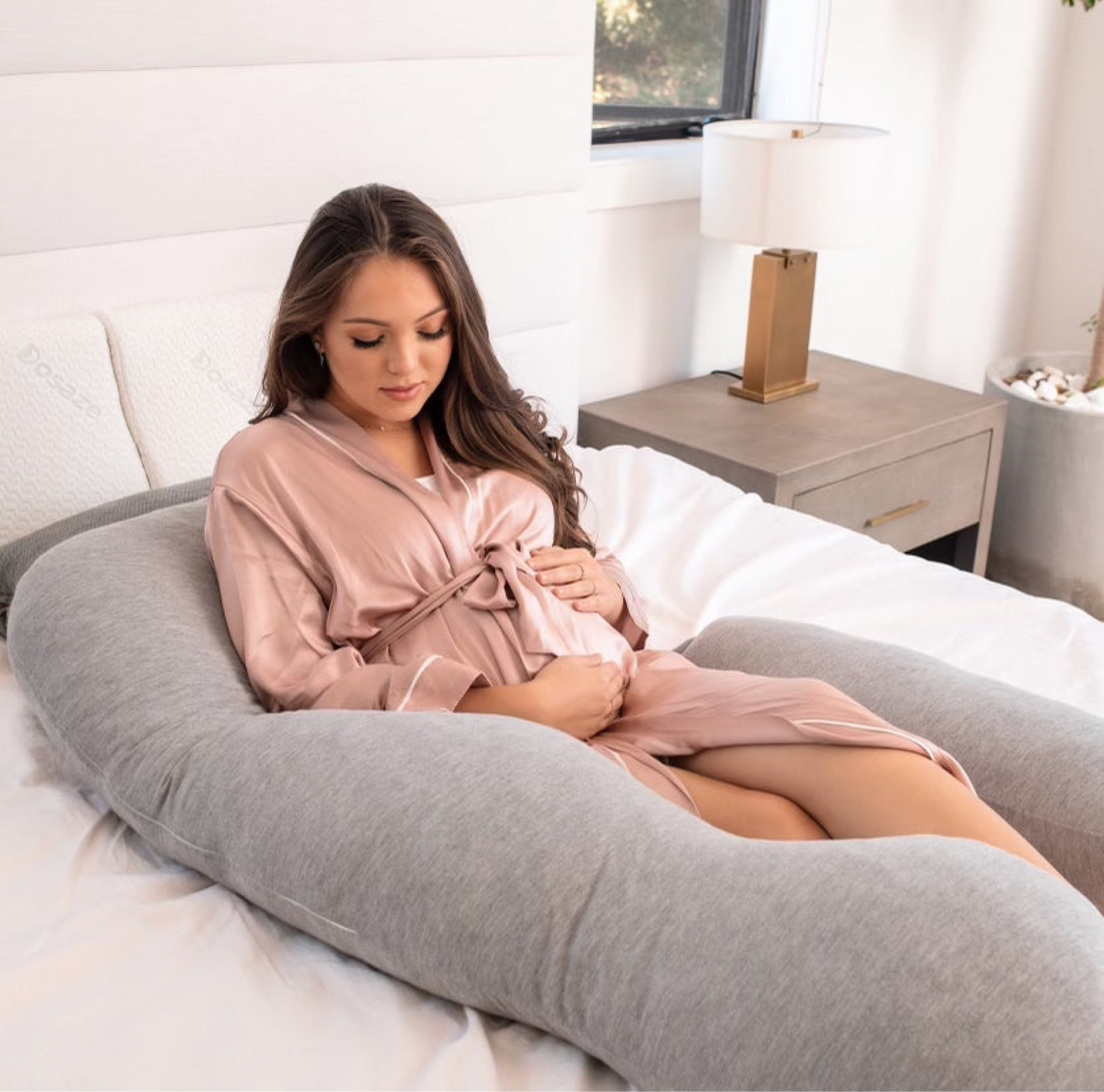 Healthy and safe for you & baby
Our premium bamboo rayon cover is naturally cooling and infused it with silver to make it antimicrobial to keep you, your skin, and your baby safe. Araluna's plush memory foam fill is clean and CertiPUR-US® certified.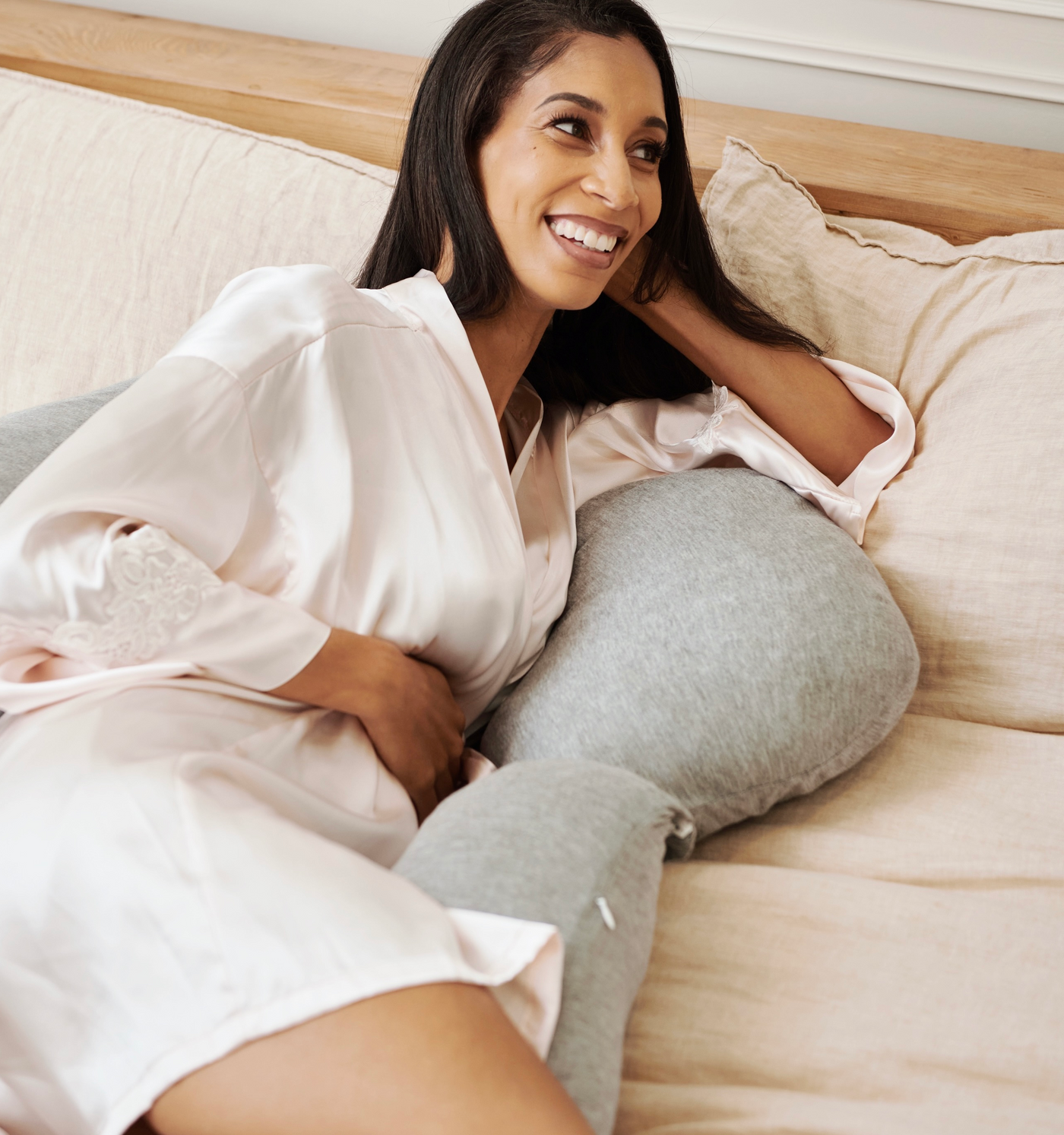 Super easy care
Araluna CloudSoft's super silky, cooling bamboo cover is blended with rayon and cotton for durability. To clean, just unzip the cover and wash and dry on delicate.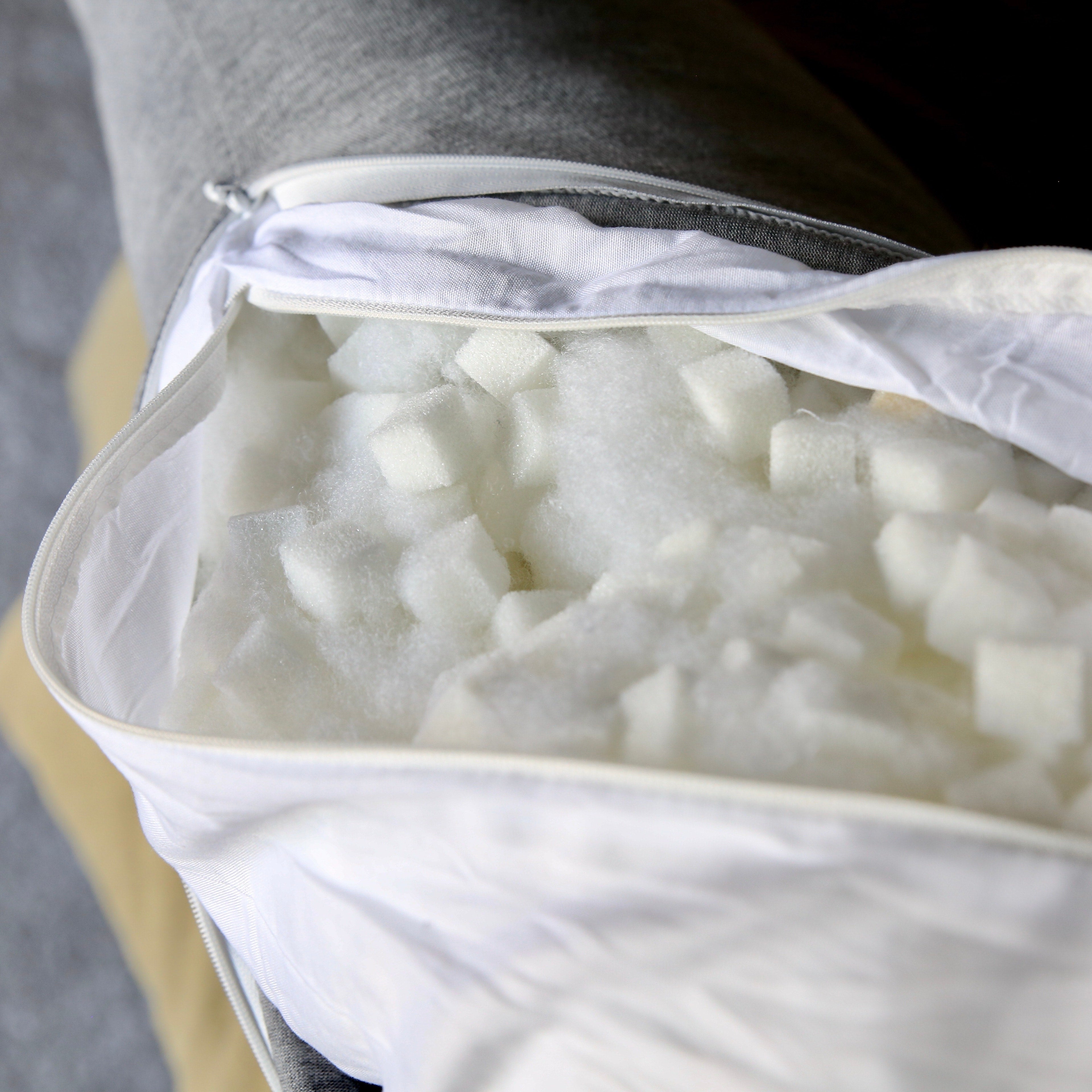 Certified Memory Foam
Discover the Araluna Difference: Your Health and Comfort First!
At Araluna, we care deeply about you and your baby's well-being. That's why we go the extra mile to ensure our maternity pillow is filled with only the best and safest materials.
Unlike other brands, we exclusively use CertiPUR-US® certified plush memory foam fill.
What does this mean for you? It means peace of mind knowing that you and your baby are resting on a pillow that meets the highest standards for safety, quality, and performance.
Our CertiPUR-US® foam is free from harmful chemicals, ensuring a healthy sleep environment for you and your little one.
But that's not all! Araluna's memory foam filler offers exceptional support and cloud-like comfort, helping you enjoy restful nights throughout your pregnancy journey.
Say goodbye to restless sleep and hello to ultimate relaxation.
When it comes to the health and comfort of moms-to-be and their precious babies, we don't compromise. Join thousands of satisfied moms who trust Araluna for a better night's sleep.
Experience the Araluna difference today and make your pregnancy journey even more memorable and enjoyable.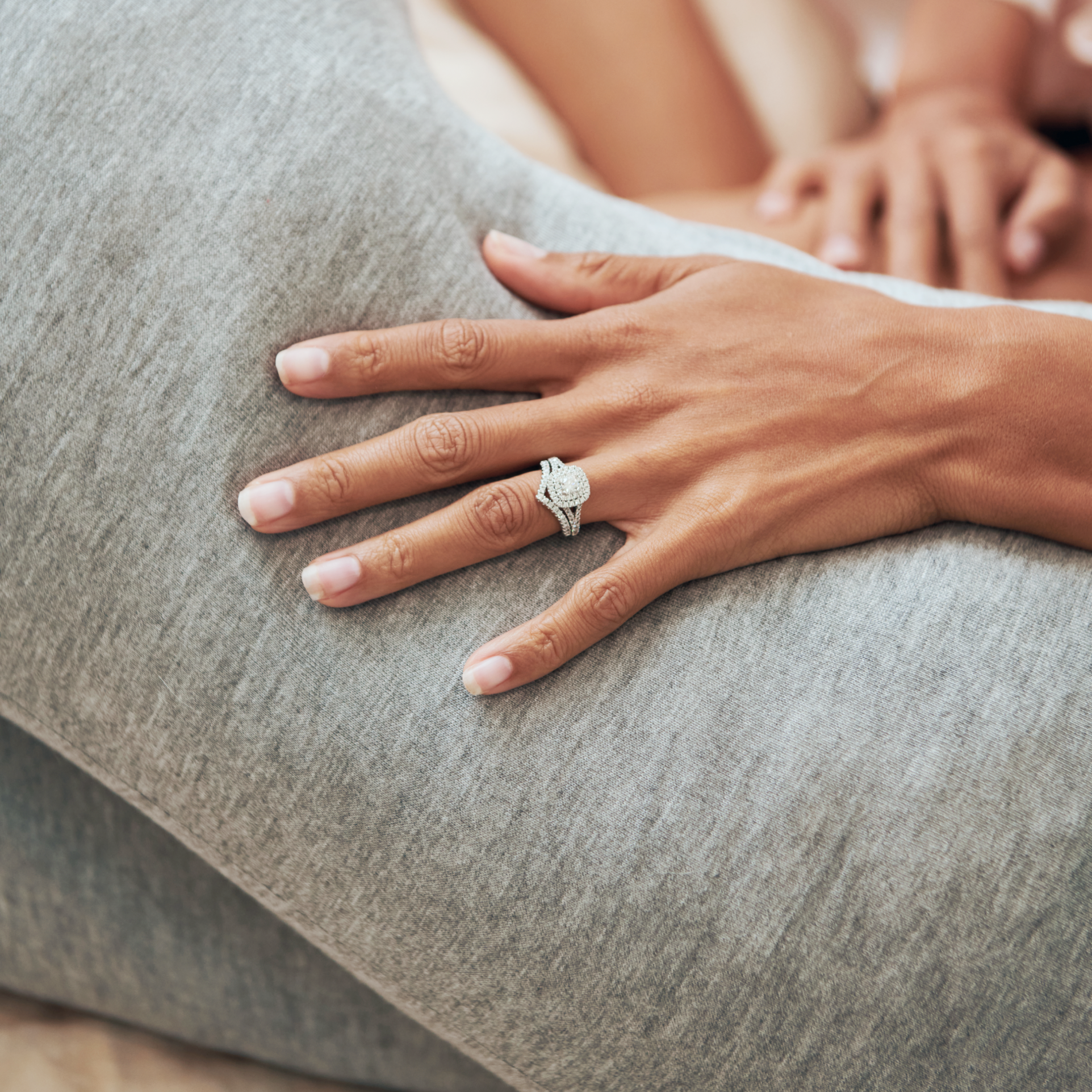 Silky Soft Fabric
Indulge in Unmatched Comfort and Hygiene: The Perfect Pillow Cover for You and Your Baby!
At Araluna, we believe that you deserve the very best, especially when it comes to comfort and health. That's why we've meticulously designed our maternity pillow cover with your well-being in mind.
Crafted from premium bamboo rayon, our pillow cover is not only silky soft to the touch but also naturally cooling, ensuring you stay fresh and comfortable all night long.
The luxurious sensation against your skin will make bedtime feel like a dream come true.
But that's not all – we took things a step further by infusing the cover with silver, making it naturally antimicrobial. Say goodbye to worries about germs and bacteria! We've got you and your baby's health covered, quite literally.
The silver-infused technology actively combats harmful microbes, providing an added layer of protection for you and your little one. Rest easy, knowing that your pillow cover is working tirelessly to create a safe and hygienic sleep environment.
Experience the premium quality and soothing softness of our bamboo rayon pillow cover. Elevate your sleep experience and enjoy the peace of mind that comes with knowing you've chosen the best for you and your baby.
Upgrade your rest with Araluna today, and rediscover the joy of a serene, hygienic, and comfortable night's sleep.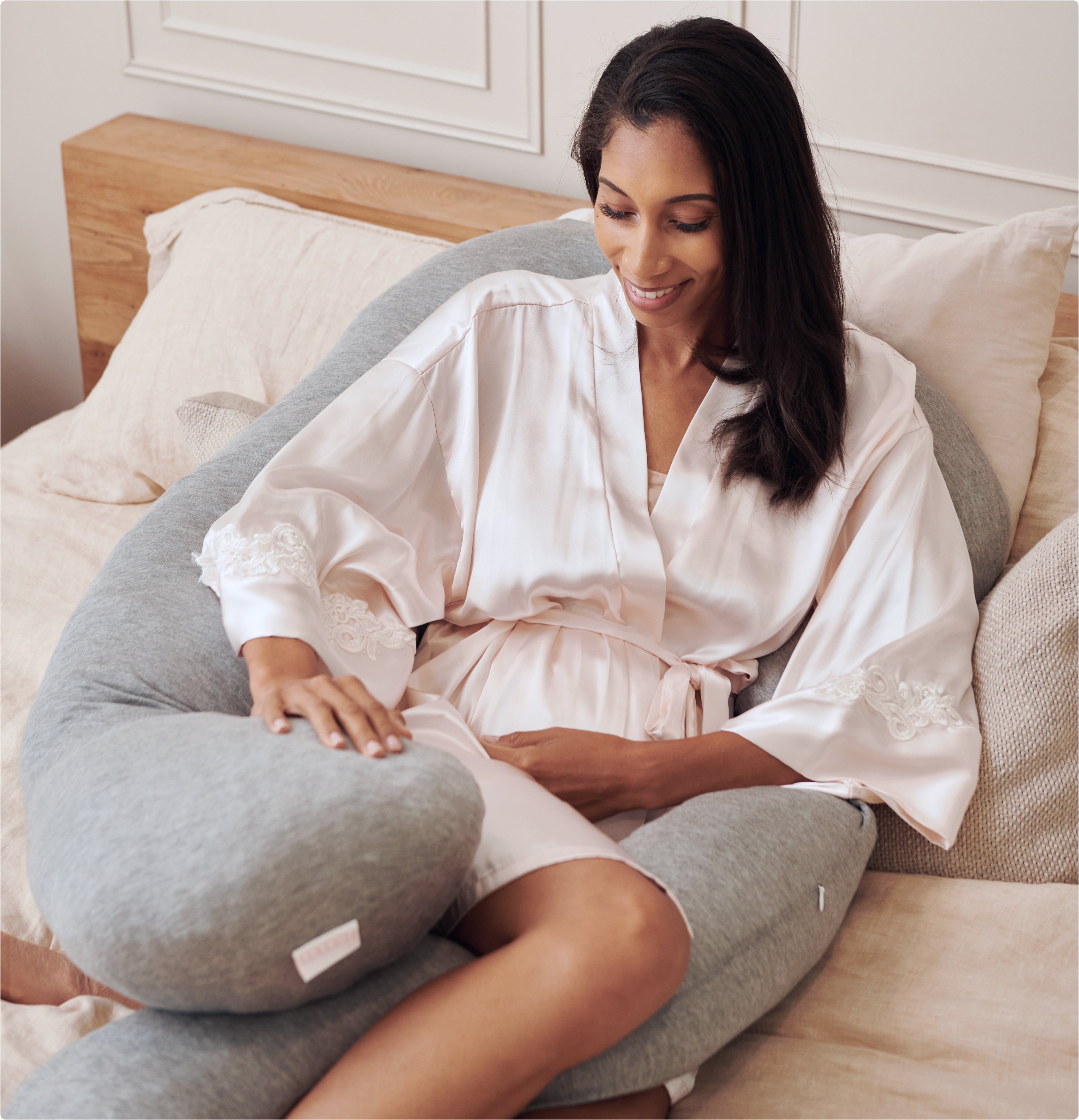 Designed by Mamas
Celebrate the Thoughtful Design of the Araluna Maternity Pillow: Tailored for Moms, by Moms!
At Araluna, we understand that being a mom-to-be is a special journey filled with unique needs and comforts.
That's why we collaborated with real mamas from the very inception of the Araluna Pillow, ensuring that every feature is thoughtfully designed to enhance your pregnancy experience.
Unparalleled Features to Embrace:
Orthopedic U-Shape: Designed by experts, the U-shape offers comprehensive support for your back, hips, knees, and neck, promoting better alignment and relieving pressure.
Adjustable Fillings: Customize the pillow's height to your liking, providing personalized support exactly where you need it. Say goodbye to one-size-fits-all solutions!
Extra Length and Density: Unlike standard pregnancy pillows, the Araluna Pillow is longer and denser, cocooning you in unparalleled comfort for a blissful sleep.
Detachable Extension: Our thoughtful design includes a detachable extension that can be used as a separate full body pillow, providing versatile support as your needs change.
Premium Blended Cover: Crafted with a blend of bamboo rayon and cotton, the pillow cover is not only incredibly soft but also durable, ensuring it withstands the test of time.
Removable and Washable Cover: We know that spills and messes can happen, so we made the cover easily removable. Just unzip, clean, and it's good as new!
Rest assured that the Araluna Pillow is not only a product of mom wisdom but also OBGYN recommended. Its ergonomic design ensures your well-being during this special phase of your life.
Let the Araluna Maternity Pillow embrace you in comfort, designed by moms for moms.
Experience the joy of truly tailored support throughout your pregnancy journey. Enhance your rest and cherish every moment with Araluna.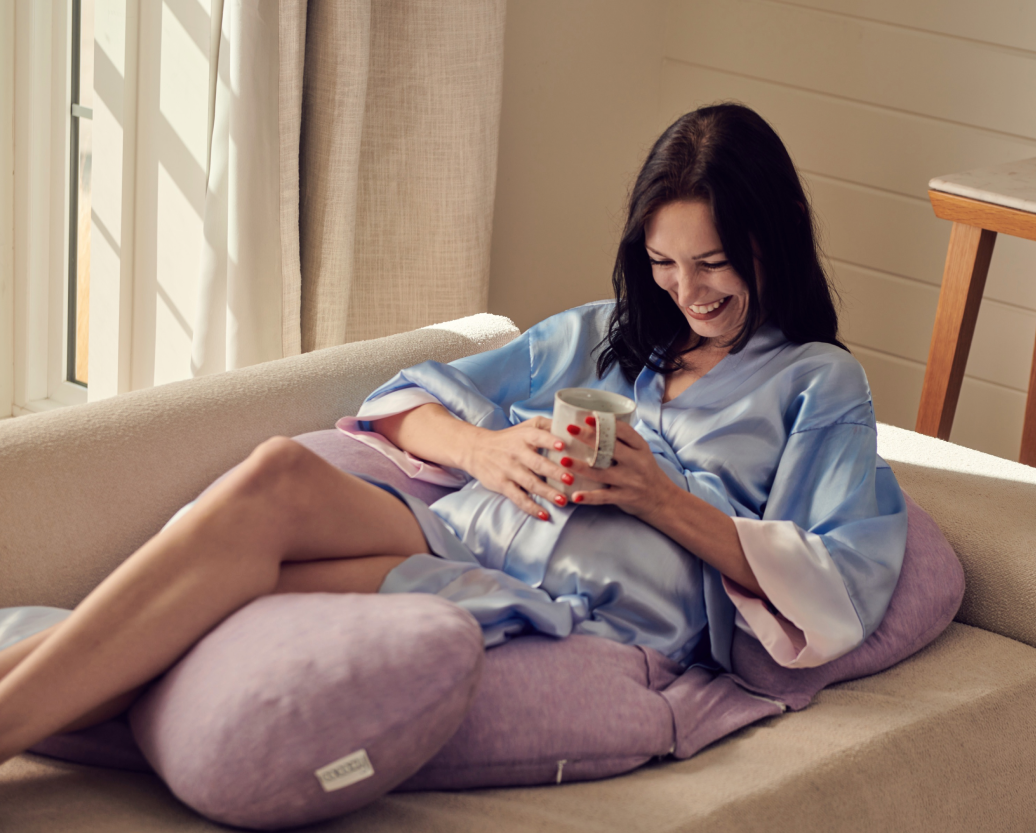 30 Night Risk Free Trial
Experience the Araluna Pillow with Confidence - Your Sleep, Your Satisfaction, Guaranteed!
At Araluna, we're committed to delivering the ultimate sleep experience to our valued customers. We're so confident that you'll fall in love with the Araluna Pillow that we're offering you a risk-free 30-night sleep trial. Yes, that's right – a whole month to experience the comfort, support, and joy it brings to your nights.
Here's how it works:
Receive your Araluna Pillow: Once your order arrives at your doorstep, embark on a journey of restful sleep.
Unwind in Comfort: Snuggle up with your new pillow and enjoy the plush, supportive embrace that Araluna provides.
Fall in Love with Araluna: We believe that you'll absolutely adore your pillow. After all, it's been meticulously designed with moms in mind!
However, we understand that each individual's sleep preferences are unique, and sometimes things might not click right away. If, for any reason, you don't find yourself head-over-heels with Araluna, simply reach out to our friendly support team at support@araluna.co within 30 nights from the date of delivery.
No strings attached, no complicated hoops to jump through – we'll take care of everything for you. You'll get a hassle-free refund, and we'll arrange for the pillow's return. Your satisfaction is our priority.
Sleep soundly knowing that your comfort and happiness matter to us. Try the Araluna Pillow risk-free today, and discover the joy of sleep redefined. Take the leap with Araluna and experience the difference for yourself!
The Araluna™ pregnancy pillow adjusts to you and your sleep preferences. You can add and remove fill to adjust it to the firmness and height of your liking. We've also added a removable detachment for ultimate control. In addition, we used a premium silver infused bamboo cover that is naturally cooling, antimicrobial, and softer than silk - it's really the best pillow for any expecting mother (or anyone who wants some extra support!)
Yes. The memory foam in the Araluna™ pillow is CertiPUR-US® certified.

CertiPUR-US certified foams are:

✓ Made without ozone depleters
✓ Made without PBDEs, TDCPP or TCEP ("Tris") flame retardants
✓ Made without mercury, lead, and other heavy metals
✓ Made without formaldehyde
✓ Made without phthalates regulated by the Consumer Product Safety Commission
✓ Low VOC (Volatile Organic Compound) emissions for indoor air quality (less than 0.5 parts per million)
The Araluna maternity pillow™ measures:
7" High
51" Long
29" W
You can also adjust the pillow to match your perfect level of plushness removing as much stuffing as you want.
We have a 30-day satisfaction guarantee. We pride ourselves in the quality of our pillow, so we want all our customers to be happy. If you have an issue, please contact our customer support team at hello@araluna.co.
Yes! Araluna™ has an easy to remove cover that is machine washable.
The Araluna™ cover is made of 100% bamboo and the fill is a blend of memory foam and microfiber.
Totally flat and not fluffy like the photos. Scammed.
Great pillow. Has some minor pilling after several months of use. My spouse loves it. The flat portion for the arm was surprisingly significant for my wife's comfort. Would recommend.
very lumpy. bad quality unfortunately.
I got this for my fiancé and let me tell you what! She's tried different pillows but this one she absolutely LOVES it and she highly recommends it!